Info:
Over the weekend Sporting John enhanced his Cheltenham Festival credentials by winning a novice hurdle at Ascot convincingly. In the process he ran a speed rating of 84 which in non-graded company is no mean feat.

In the system builder we can run a report to see how that figure measures up against other performances in non-graded novice hurdle races this season.

I am going to start by restricting the date to 01/10/2019. The UK season starts again at the back end of April, but you still have the Punchestown Festival in May over in Ireland. Another reason I've used the 1st October is some say the Chepstow meeting in October signifies that the jump season is about ready to begin.



On the race tab I just want to be looking at Hurdle races, and because the race that Sporting John ran in was a non-handicap I have restricted it to just looking at those races.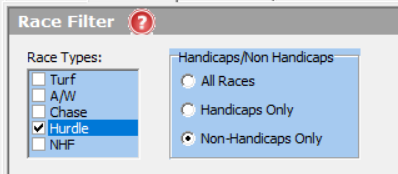 Then we move onto the Classifications tab and only select Novice. A quick way to do this is to right click and de-select all and then click on Novice. On the NOT Classifications column, we also want to tick Grade 1, Grade 2, Grade 3 and Listed as we are looking at non-graded races.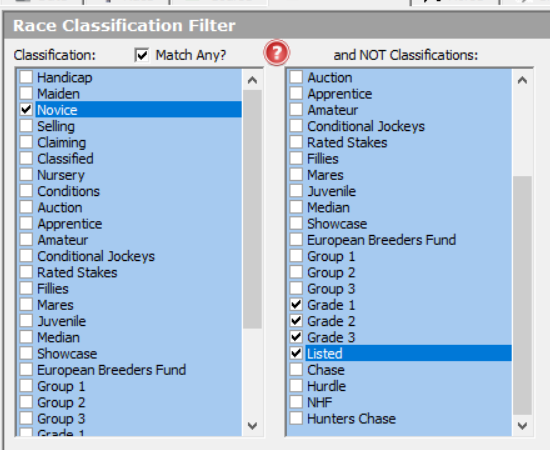 When we have done that, we can now click on run system. This will then bring up all the winners and runners. Double click on one of the columns and it will bring up a list of all the runners from the 01/10/2019.





The Speed Rating tab is further to the right off screen, so you want to scroll across and then left click and drag the column over next to the horse name. If you then click on the speed rating column it will sort the column from highest to lowest Speed Rating. When you have done this you will see that Sporting Johns speed rating of 84 is two better than what has been produced by other horses that have run in non-graded novice hurdles.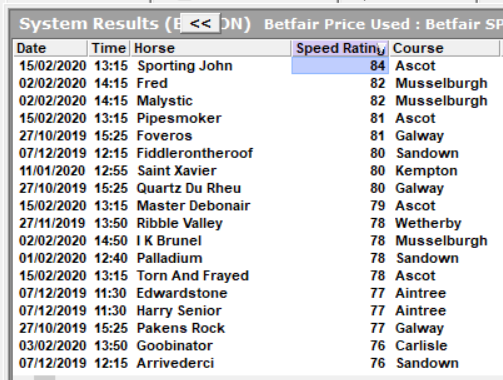 Now we know he has the best speed rating in non-graded races we could see how his figure compares to those have run/won graded events. Just go back to the classifications tab and untick Grade 1, Grade 2, Grade 3 and Listed in the and NOT Classifications column. If we then run the same report as we did above, we can now see a list of horses that have run in non-handicap novice hurdles. If we then sort the Speed Rating column again we see the 84 he produced at Ascot just puts him outside the top 10 but also on par with what Envoi Allen has done in a Grade 1 at Navan.