OVERVIEW
Finding your next Bet, Lay or Trade has just got a lot easier!
If you are punter who does not have the time to look at form, using the Proform Bet, Lay & Trade Finder (BLT for short) you can find selections in a matter of seconds.
Honestly, it's that's quick!
Using our Bet, Lay & Trade Finder is a simple matter of clicking our intuitive filter buttons to make your choices via a mobile/tablet or desktop computer.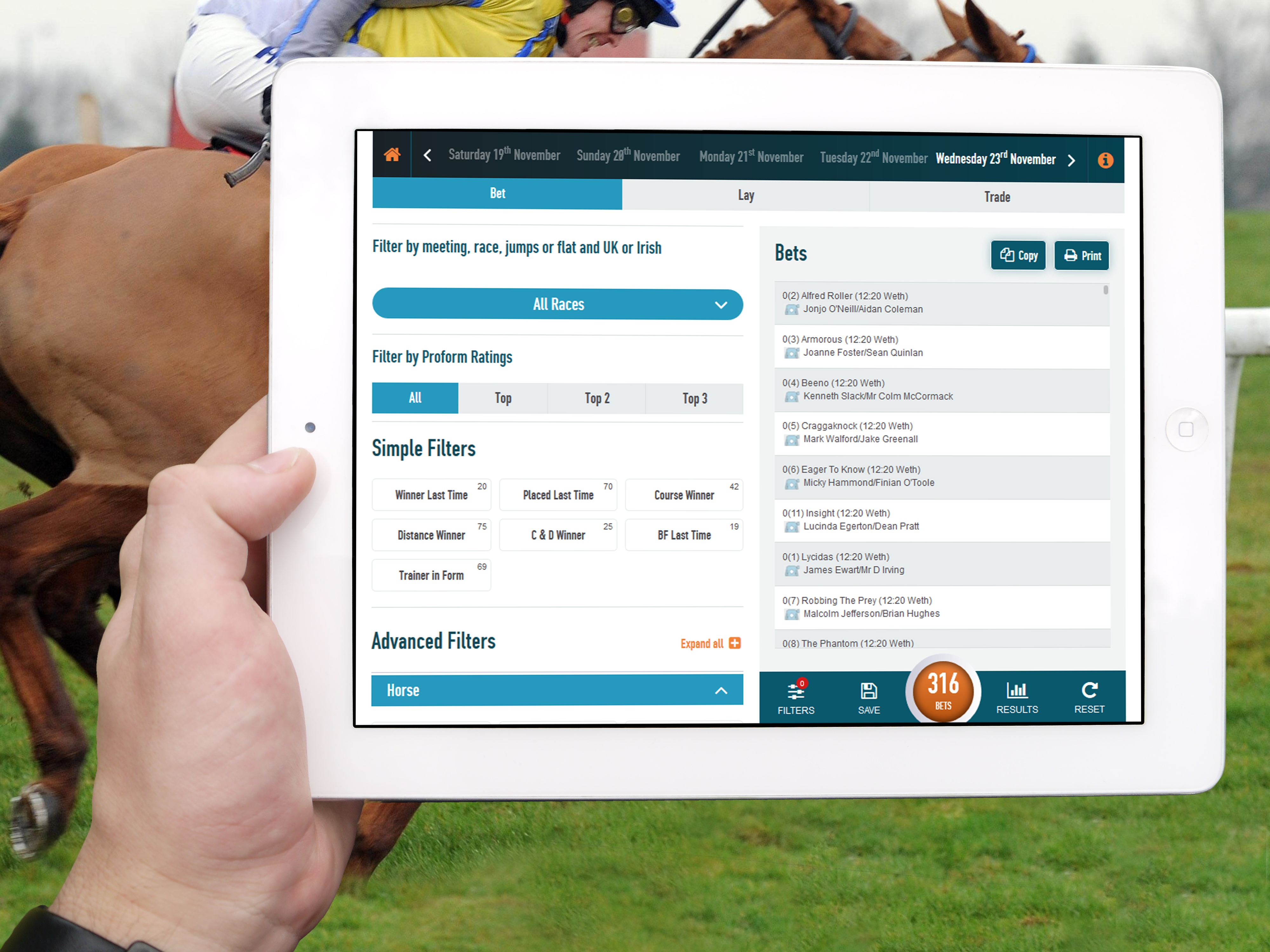 FEATURES
FILTERS
We provide 100's of dynamic filters and when each filter is applied, search results are automatically updated and the list of horses matching your preferences are displayed instantly so you are in control every step of the way.
A unique feature of about BLT Finder is that it's the only tool available on the market that not only offers you the choice of finding the best Bets in every race, you can also find Lays and Trades for betting on the exchanges.
ADVANCED FILTERS
BLT Finder has lots of unique advanced filtering options which you won't find elsewhere and our engineers are constantly on the lookout for new and exciting filters to add.
Once we've found one, the relevant filter is automatically added to the button choices. We do all the work for you, it's what Proform does best!
UNDO
If you are not quite sure that you've found a winning angle, then you can quickly undo your choices and mix and match filters.
RESEARCH THE PAST
Using another of BLT Finders unique features, you can gaze into the crystal ball and find out how your current filters faired using results from previous races on days in the past.
COPY, PRINT and SAVE
Once you've found the selections you like, you can copy or print your choices or even save your filter.
LIVE UPDATES and RESULTS
BLT Finder will also monitor non-runners and auto remove them and then update the stats to reflect these so as you look at each race you can do so in the knowledge that you have all the up to date information at your fingertips. The app will also feed in live results as they happen.
DETAILED VALID STATISTICS
At Proform we pride ourselves on accurate data and valid statistics and the data in our BLT Finder is no different. Once you have found your selections you can click each one and see the full statistical detail for each filter you selected.
BLT FINDER HELP
CLICK HERE for a more detailed explanation of how our Finder tool works.
WATCH OUR OVERVIEW OF BETFINDER
HOW DO I GET STARTED?
BLT Finder is available to Platinum members who also enjoy the benefit of our Form Book and System Builder software, Race Guides, Daily Stats and much more... CLICK HERE and SUBSCRIBE NOW