Info:
There is a option in the system builder, which allows you to look at the trainer cold list.
This option is in a new tab called Horse 2, here is a screenshot:

As an example we will look at the trainer cold list against trainers with runners on a particular day.
Tick the Trainer Cold List box on Horse Tab 2
Now lets move to the Date Tab and choose a day to analyse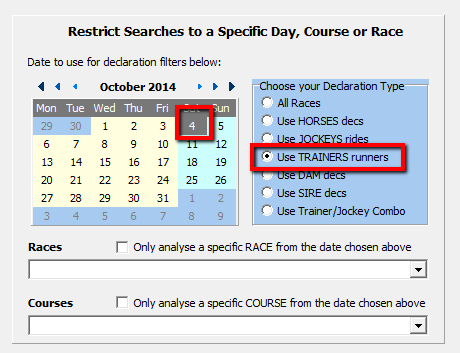 In the image above we have chosen Sat Oct 4th and ticked "Use Trainers Runners"
In the image below, we are now presented with a list of all trainers with runners on this day and the number of runners they have had since their last winner, and sorted the results by runners so we can see the trainer with the longest losing run at the top.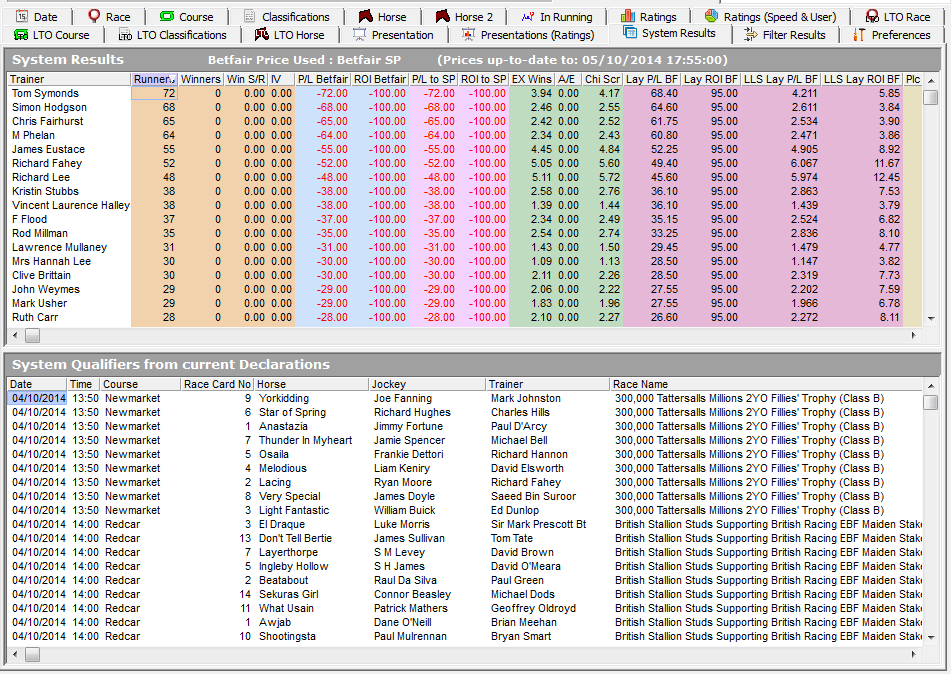 We can now see the full results and unlike the standard cold list of a number of runs without a win, Proform allows you to see how many expected winners they should have had based on the prices of the runners and the place and win/place summaries.
This gives you a much clearer picture of who is in or out of form.
Remember you can sort by any clicking with a click and use the filters screen to filter on various variables.
You can also use the race types of A/W, Turf, Chase, Hurdle and NHF in the race tab to further filter the cold trainer list.
So if you were just looking at a NH race you could untick Turf and AW in the race tab so that the returned cold list was just for each trainers NH runners.