@LordDula's guide to making profits using Proform
November 19th, 2019
No matter your level of experience or competence I'm sure that we'll agree that when it comes to analysing horse racing events, we never stop learning.
When striving to develop an edge and optimise our selection processes for betting or trading purposes we share the same goals; chiefly to maximise assimilation of information in as little time as possible without compromising accuracy.
Before putting any money at risk we want to feel confident that we're in a position to consistently beat the odds.

Having been active in horse racing betting for a relatively short period, a little over 4 years now, I wouldn't consider myself an expert when it comes to discussing the more intricate aspects of the sport, but owing to a strong personal determination and desire to learn, combined with a logical reasoned approach to analysing race information I've reached a stage where I'm confident that I can continually extract profits from the markets.

Supporting a young family and in full time employment, the time I have available to devote to racing is limited. Having learnt from the many trials and tribulations this endeavour invariably brings, I've managed to streamline my preparation methods to suit my needs.

To be successful we need have a strong mind-set, remain disciplined and have access to reliable, accurate, and comprehensive information.

With reference to that final key element, the returns I was generating shot up to another level shortly after I started using Proform and here's why...

The extensive range of market leading and unique features Proform offers allows us to quickly delve in to pertinent information, and to explore insightful angles at the click of a few buttons.

Many users look to standardise a "set and forget" approach taking advantage of the system builder.
In addition to being able to generate systems of your own, upon taking out a Platinum subscription you'll gain access to an established set of profitable systems and to a chat room where fellow like-minded and skilled users share ideas, views and intel. An enjoyable bonus which helps us all to stay focus and progress together.

Part of the appeal of betting in horse racing is the challenge of solving the puzzle that each race represents. Finding your own winning selections is extremely satisfying and it's due to this that my preference is to adopt a form book approach.
When identifying selections, I rely on several features of Proform, the main ones being...

THE RACE GUIDES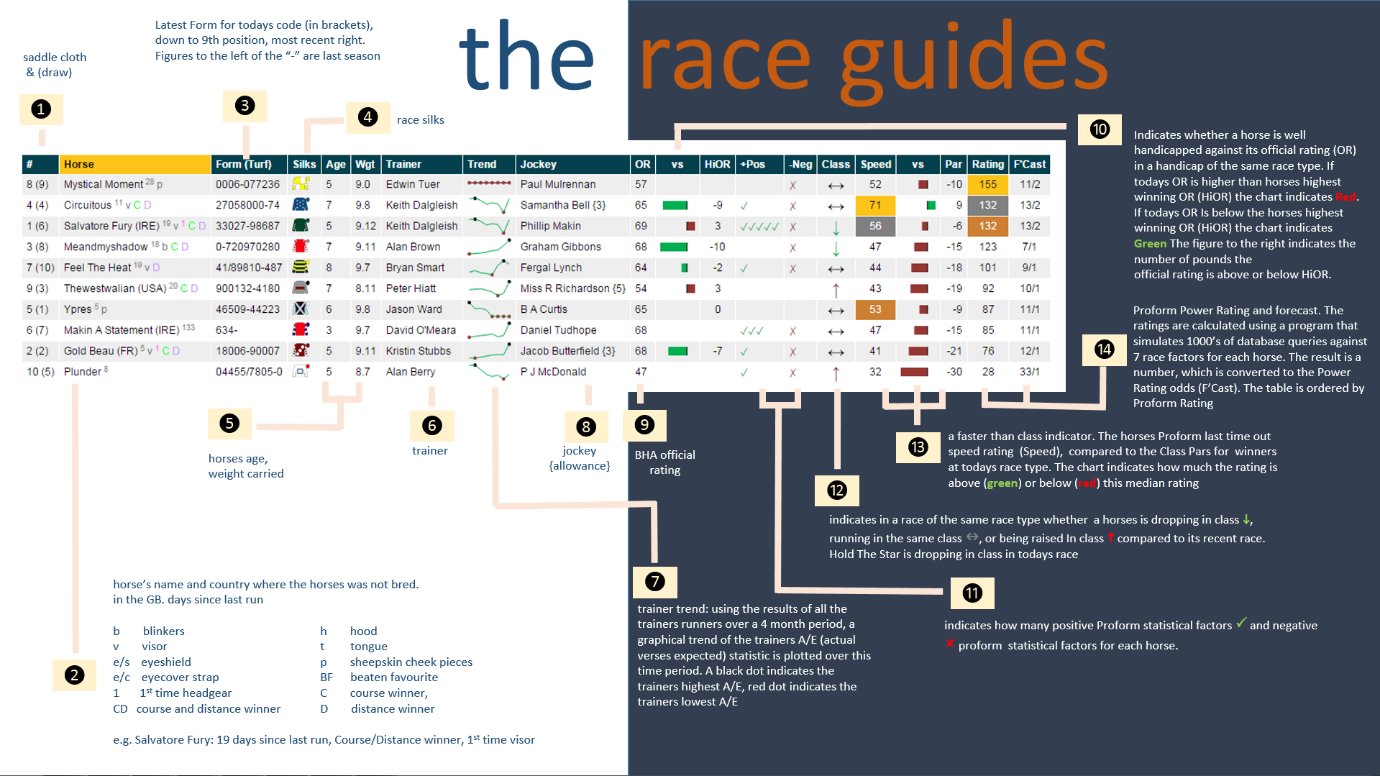 Loaded with a wealth of information and presented in an easy to follow user friendly format, the race guides are accessible via both computer and mobile devices.

When working through the guides the first thing I will do is take note of the race type and conditions to make an assessment of the level of risk the race carries from a betting perspective. If, for example, the race is of lower quality, includes many unexposed runners with little form history, or there's a large number of runners, I shall either stay out or reduce stakes accordingly.

Race profiling is of utmost importance to me. I like to build a picture in my mind as to how the race may pan out and as to what it will take to be competitive or win the race.
In order to do that, I will look at the anticipated pace, displayed within the pace map, to see where the more fancied runners, either those at the top of the betting market or those heading Proform's Power Rating, might position themselves.
I will reference the course bias figures for pace to see how prominent or held up runner's typical fare in races of its type and I will correlate that to expected run styles.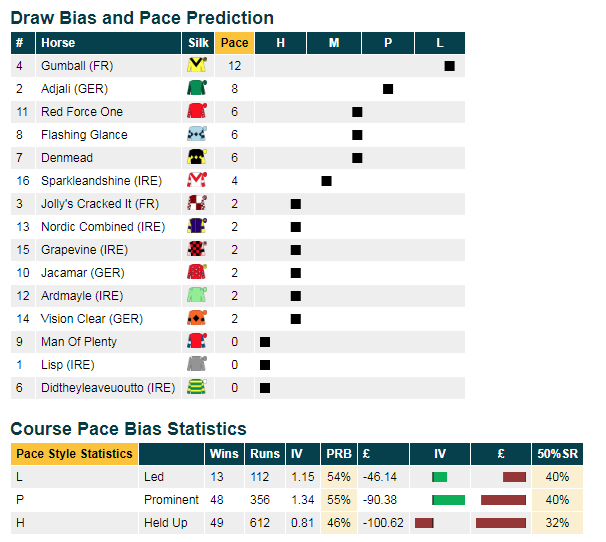 For flat racing I will pay close attention to the stall a runner has been drawn in and the bias or impact value that holds. This detail is also shown within the pace map.

Having assessed the pace, and made note of runners of interest where I feel the set up might be in their favour, I then look to see if they've been entered in to the race with genuine intent to win, and if they've previously shown signs that they'll be capable of crossing the finishing line first.

Key indicators to look at here would be the trainer's recent form, their strike rate in similar races and with the jockey booked, referencing the trainer course, 14+ day and trainer/jockey tabs.

In terms of the horse's capability, I'm interested to see if they have course or distance winning form, denoted by a C and/or D next to their name, how they rank in terms of speed, taking note of not only their speed rating but how that compares to the class par speed rating, their overall Power Rating and also how much weight they are carrying compared to rivals, and, when appropriate to reference, today's Official Rating (OR; often referred to as handicap mark) versus its highest OR achieved (hiOR).



Where a horse has caught my attention but has little to no experience over the course, distance or going, I will check the sire tabs to see if the runner's relatives have performed well over the conditions.

As final checks I will look at the detail within the positive/negative (pos/negs) tab, which will often highlight standout stats which the majority of punters will fail to consider, and I will look to see if the horse has performed well in today's class by viewing the horse stats tab.

Before placing any bets it's well worth comparing the market odds and Proform's forecast odds to assess value, which is crucial to achieving long term profits.

I'd also strongly recommend watching replays of a runner's previous run(s) and reading reviews within the media either on racing websites such as the Racing Post or those posted on Twitter, to help validate selections.

THE DAILY STATS AREA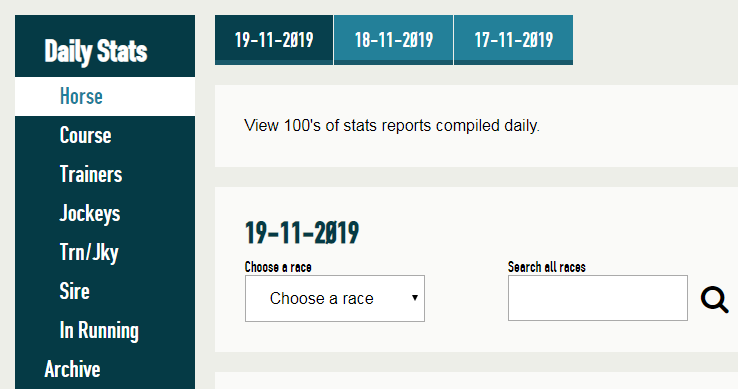 I will take advantage of the Daily Stats section of the Proform website, as a quick way of identifying horses with compelling stats across various factors covering previous form, trainer, jockey and sire angles.

To swiftly drum up a shortlist of runners, I will make use of the filters available, homing in on runners with strike rates and AE's (Actuals v Expected) over a set percentage, typically greater than 30%.

A review of the results will help to spot horses which might be undervalued by the market and which may be well set for today's race.
THE SYSTEM BUILDER / EXPORTER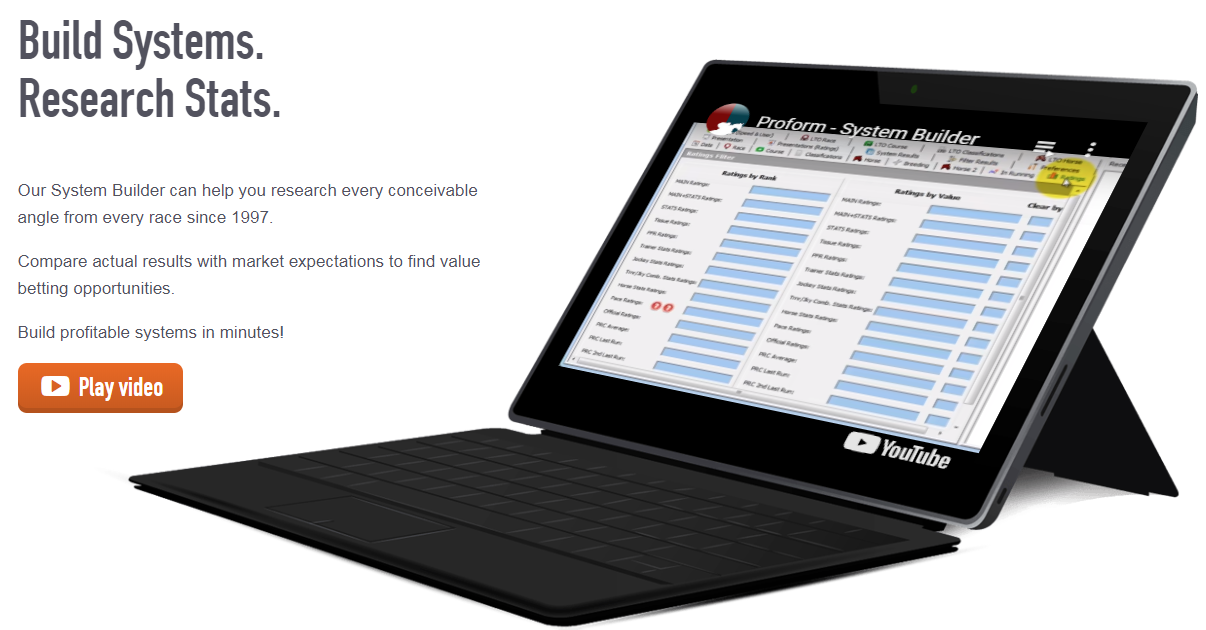 If you have a desire to automate and customise your selection process further then I'd recommend using the Proform Software to extract info of your choosing into Excel which will allow you to play with the format of data and apply more intricate filters.

This feature allows you to assess statistics which are exclusive to the software, such as previous in running high and low prices, price tick movement trends plus many more. If you are adept at manipulating data then the sky's the limit here.

The Bet Finder tool mirrors this capability, albeit with a lessor scope of information to interrogate, but with the added advantage of being able to use on the go via mobile devices.

SUMMARY

I hope this article will give you food for thought and will help you to get the most out of Proform.
In my view it's simply the best information provider out there and it's an essential tool for those wanting to lean out their selection process and to build and optimise an edge.

With continued development and updates in the pipeline, Proform's features will go from strength to strength.

I encourage you to think creatively when using it, applying solid logic when doing so. This will help you to reap the rewards and enjoy the challenge of mastering the markets!

Chris Noble
Twitter: @LordDula