A B C
It's easy as, 1 2 3
If you are not sure which horse you fancy in a race use the Proform Bet, Lay and Trade Finder to help you make your selections.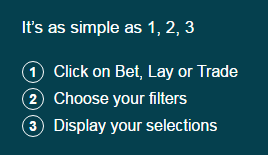 Bet Finder Overview
Opening Screen Layout
This will vary depending on whether you are on a desktop computer, laptop or mobile.
The following layout is the desktop version.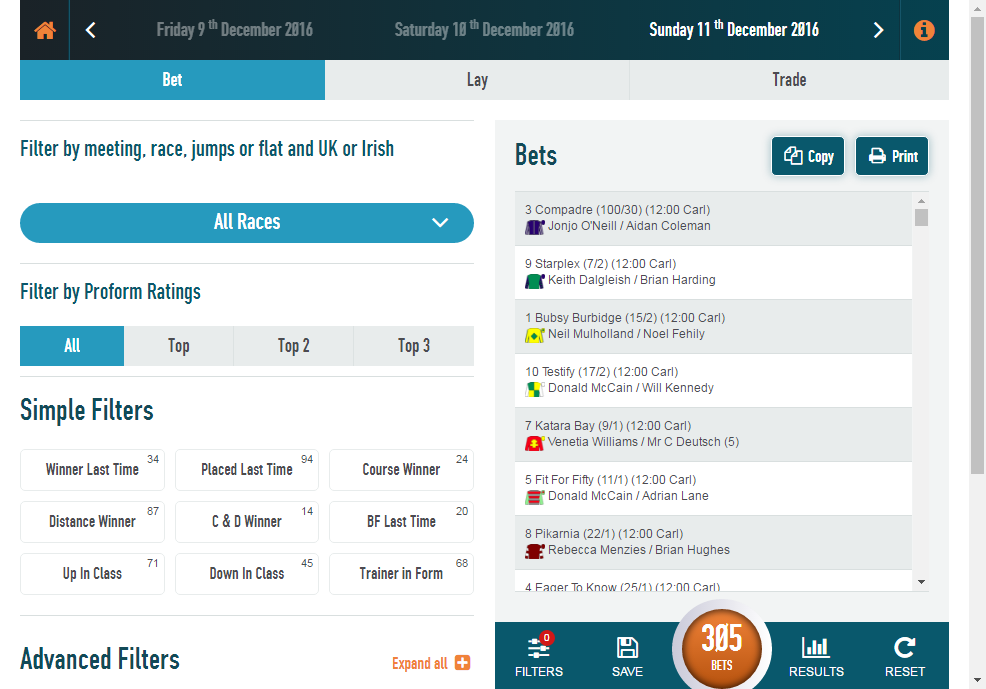 Lets split this into sections and run through each one in detail
Dates

Along the top you will see a line of dates. The default date selection will be today's date but you can choose any date to look at past results and filter them to find angles.
The home icon

will take you back to the Bet Finder home page

and the info icon will take you to this help section.
Choosing Bet, Lay or Trade

The default setting for the type of wager you want is set to Bet which is coloured blue.
Just click on the words Lay (red) or Trade (green) to change your wager type.
The filters presented lower down will alter depending on the button you selected and the colour coding will change accordingly.
Filter by meeting, race, jumps or flat and UK or Irish

This section allows you to filter all today's runners by meeting, type, country or an individual race.
The default setting is All Races are selected but you can alter this by clicking on the All Races box. Once clicked the race filter will slide down.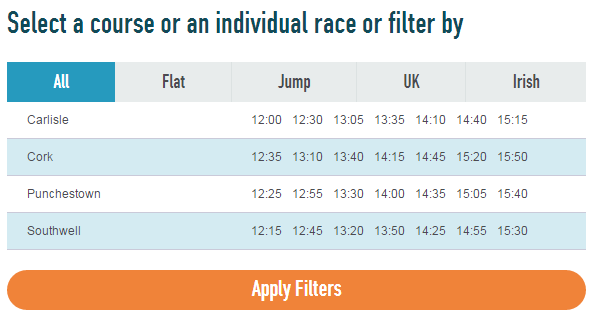 At this stage you can make a variety of selections.
Race Type Filters
You can choose Flat OR Jumps and UK OR Irish and you can combine one from each of those choices to filter today's races i.e. JUMPS/IRISH.
Once you have made your choice just click on Apply Filters.
The race filter will slide back up and the number of bets will update.
Course Filter
If you click on a course name you will filter the number of bets by all races at that course and the race filter screen will automatically slide up and the number of bets will be updated.
You will then also see that the race filter bar will change to reflect the course you chose, like this.

This filter is ideal if you are off to the course for a day out. You can choose your venue and then just apply further filters to horses running there.
Individual Race Filter
You can also select a single race. On doing so the race filter screen will auto slide up and the race filter bar will look like this.

You will notice two new left and right arrows appear when you have chosen an individual race.
These allow you to move to the next or previous race of the day in time order.
This is an especially useful filter if you are looking to bet, lay or trade throughout the day on each race.
Filter by Proform Ratings

The next section allows you to quickly filter by our Proform Ratings.
The default setting is all ratings but you can quickly swicth to looking at just our top rated horses, our top two or top three.
NOTE: Our top three rated horses win in about 2 out of 3 races.
Filter Buttons
Underneath the Proform Ratings filters you will see Simple and Advanced filter buttons, more on these later.
Each button is named to represent what will be filtered when you click it.
You can find a full list of Filter Buttons for each section (Bet, Lay, Trade) and their detailed descriptions by clicking here.
Filter Counters
In the top right of each button is a counter which shows you how many horses this button will filter down to.

The counters on each filter button are updated everytime you click any filter button or make a Race / Proform rating filter choice.
If a button counter is reduced the zero then the filter button will disappear.
Simple Filters
In each Bet, Lay or Trade section we have a set of Simple Filters.
These are the first filters displayed and they vary depending on the section you are viewing.
They are likely the most common filters you might choose.






You can read full descriptions of our simple filters by clicking here.
Advanced Filters
There are a lot of advanced filters to choose from so we have grouped them into categories.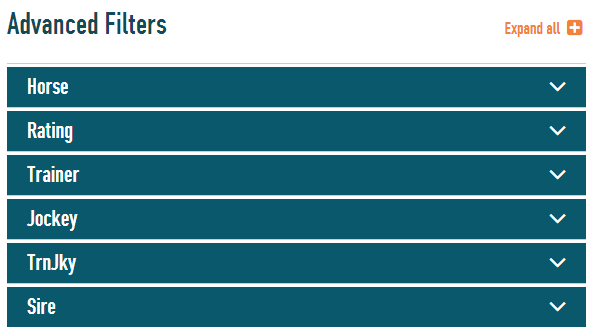 You can click or touch (mobile) any group heading to see the advanced filters or click on the orange Expand all button to show all the advanced filters.
We won't go into the detail of each and every advanced filter in this help section but if you want more information on each button then please click here.
Displaying Selections
Once you have filtered the days runners down to the number of selections you want just click on the large orange counter to display the selections.
NOTE: On desktop and some tablets you can already likely see the selections on the left.

Your selections will be displayed like this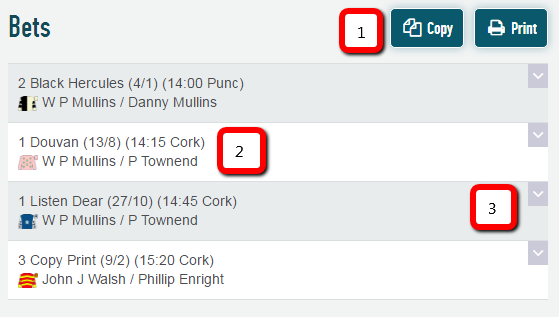 We have numbered three elements on the selection display, lets run through each one.
You have two buttons at the top. The first is COPY. which allows you to copy your selections to clipboard so you can paste them into any other application. The second is PRINT, which as you would expect lets you print out your selections.

Your selections are displayed here and they are ordered by time and then by Proform Rating rank with the best horse first.
You can also see the following information
Saddle cloth number of the horse
The stall position (in brackets) if this this a flat race
The name of the horse
Proform's assessment of fair odds (in brackets)
The In Running Low and High % (only displayed on results)
The time and race course
The jockey silks (roll over to enlarge)
The trainer and jockey name


This little down arrow means there is more information to display, which leads us nicely onto the next section.
View the Statistics
When you are viewing your selections you can click on them to display the stats behind the filters you selected.
Here are two examples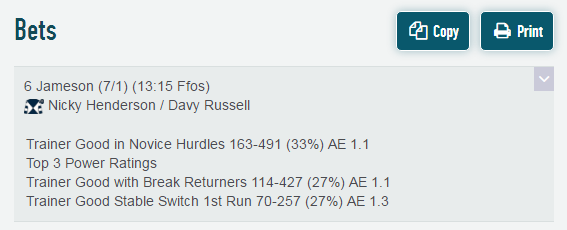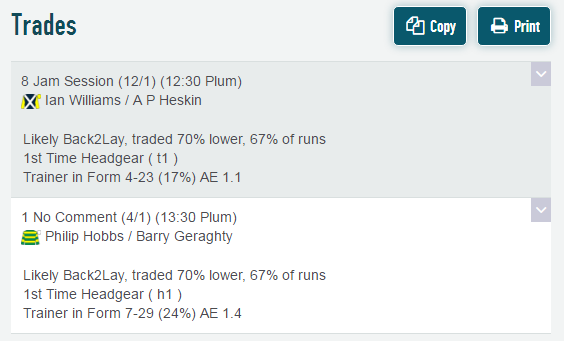 You can see above there is plenty of detail when you click on a bet.
You can see all the filters you have chosen and the detail behind the stats.
Each stat shows you the winners - runners (strike rate%) and AE figure.
The AE figure is Actual winners divided Expected Winners and shows you much better than or worse than normal a statistic is.
In laymans terms a AE of 1.4 would mean this stats is 40% better than expected.
If you wish to learn more about the AE Index then please Click Here and watch this video.
Quickly Undo Filters
You can see the filters you have applied by clicking on the FILTERS button on the bottom bar shown in the image below.

Your filters will then slide up from the bottom bar and you can leave this feature on while you select more filters.
You can click on any filter shown to remove it or use the UNDO button to step back through the filters in the sequence you added them.
Save your Filter
You can save three filters, one against each of Bets, Lays and Trades.
You save them by clicking on the button highlighted below.

If you have a saved filter you can load it back in using the following button which only appears if you have a filter to load.

Reset the Filters
You can reset all your filters at any time using the RESET button on the bottom bar highlighted below.

NOTE: The reset button resets all simple and advanced filters. It does NOT reset any Race Filter or Proform Rating filter choices.
View Live Results
When you are using the Bet, Lay, Trade finder throughout the day the number of horses running will decrease as the results of races are known.
So the number of selections on the big orange counter will decrease as the day goes by.
You can however view the results as they happen and see how your filters worked out.
All you do is click on the RESULTS button on the bottom bar, highlighted below, to turn them on

You will know they are switched on as the button will now look like this

and when you are view selections if the results are in you will see finishing positions and SP odds, like below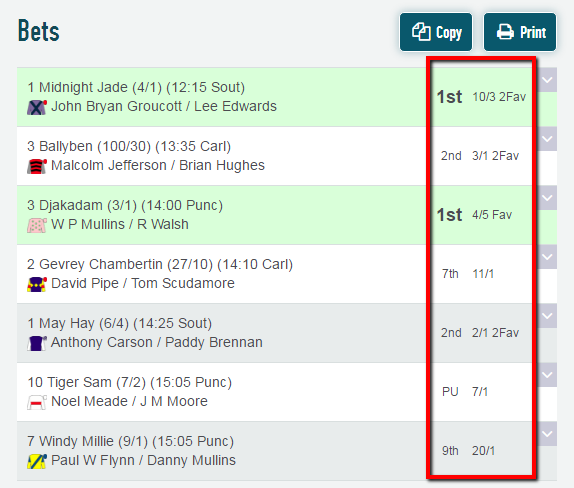 Research the Past
This is a very exciting and unique feature of our finder tool.
You can select filters and then look back in the past to see how they performed.
The easiest way to show you this is in via a very short (25 second) video click.
Just Click Here to watch.