The ultimate all-in-one form book
Giving you the edge over 99% of punters
The professional's choice since 1995
TV pundits rely on our software
Here's what you'll be able to do with Proform!
Proform is the essential tool for punters looking to make money from betting on Horse Racing. Our form book covers Jumps and Flat racing in the UK and Ireland. We offer many features, below are just a few.
You can find Back 2 Lays quickly using our In Running Module

You can filter form by ground conditions, class, distance and more

Using our unique pace ratings, quickly see how a race will unfold

Breeding Data; Query dams, damsires and countries of breeding

Do you want data to manipulate? You can export our entire database!

Alerts! Track horses, trainers, jockeys and so much more

Stay informed with live non-runner and going change notifications

Learn from the professionals with our comprehensive training videos

Find well handicapped horses at-a-glance in Proform

Which owners make a profit? You can find out in seconds

Our Daily Stats reports can help you find an edge in every race

You can research races quicker than any other form book

Find bets quickly using our visual race guides

Expose the limitations of racing statistics provided in the media
Imagine what
you

can do with Proform at

your

Fingertips? Click here
Find Bets, Lays or Trades on the move
It's as simple as 1, 2, 3
Click on Bet, Lay or Trade
Choose your filters
Display your selections
Perfectly designed for mobile, tablet and desktop.
More Info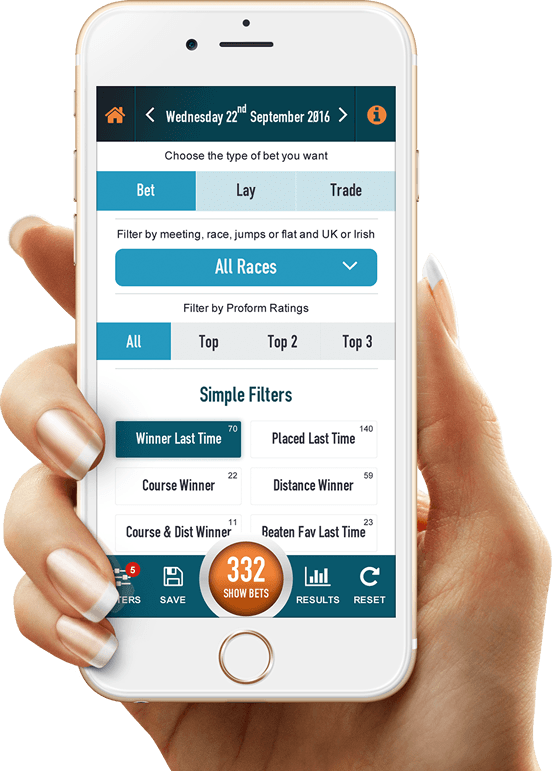 Store Notes. Export Data. Find Patterns
You can store, import and export your notes using the Proform form book
Export and manipulate our data to suit your own preferences
Find patterns in a horses form with our unique tools
Play video
Race Guides for tablet and mobile
Find the information you need in an instant using our visual race guides.
Using the power of the Proform Form Book, we have developed the Proform Race Guides. These break the mould to provide race information for the casual and serious punter.
Find out more
Build Systems.
Research Stats.
Our System Builder can help you research every conceivable angle from every race since 1997.
Compare actual results with market expectations to find value betting opportunities.
Build profitable systems in minutes!
Play video
Daily Statistics
Do you want to analyse key factors in a race which our competitors miss?
Platinum subscribers get access to our Daily Stats Area containing 1000's of race related signposts and unique punting pointers which you can analyse in seconds.
You can view a few each day for free.
Find out more
Tracking Willie Mullins Hurdlers After They Win On Debut

November 13th, 2023
By Paul Fitzgerald NOTE: You can click on any image to view in a new window and you can download a PDF copy of this...

Read more

Why doesn't the best horse always win?

October 29th, 2023
By Keith Wright NOTE: You can click on any image to view in a new window and you can download a PDF copy of this article...

Read more

Early-season angles

October 24th, 2023
By Andrew Mount NOTE: You can click on any image to view in a new window and you can download a PDF copy of this article on...

Read more