A year with Proform
October 4th, 2019
A year with Proform.
Coming from an online poker playing background, I have always been one for a bit of a gamble on sports. Unfortunately, even though I'm a passionate supporter of live football, I've never been any good at winning any money from it, so its only something I've ever done for fun with mates. With regards to wanting to get more serious with betting there was a sport that always intrigued me - the world of horse racing.
It's a sport with massive amounts of statistical data available, data that cleverer people than me can take advantage of. As we all know plenty of books have been written on the subject and there are plenty of websites out there claiming to have the best horse system ever for sale and even more Twitter tipsters just to top it off.
From about 2016 I'd tried several online paid horse tipster services and despite their promises I lost more than I ever won, and I trialled quite a lot of them. This frustrated me enough to inspire me to delve deeper into the racing data services available out there in order to start choosing my own bets, and at first, I must admit I chose a rival product to Proform, purely based on cost.
Yet again over 6 months I slowly haemorrhaged money, and decided paid services were just not for me, and I started placing bets just before the off over on the Betdaq exchange purely because of the lower commission compared with Betfair.
This is where things took a turn for the better. On Betdaq I discovered Proform's free racing guides. I couldn't believe what I was seeing, these guys were giving away these fantastic stats for free, I'd not seen anything like it before. These user-friendly guides were a goldmine and I started using them to place better informed bets. Within 6 months had made a decent amount of money, having 1 bet on every race of the day.
Then in September I decided to take the plunge and subscribe to the full Proform service, after all, the free race guides on Betdaq had made me some decent money so imagine what access to the full package could do. Thanks to one of their special offers, I got half price subs for my first 2 months, and once again thanks to the very helpful lads in the Proform chat group, after the first two weeks of finding my way around the software I was up and running, ready to start betting purely using systems created within Proform.
Now as I mentioned before, I played online poker for several years and I have experience of the variance you can suffer and the downswings/upswings that it could bring. I also have a decent grasp on the fact that if you have an edge in gambling, even if you feel like you are on a hiding to nothing you need to continue through to the other side as that edge will pay off over time. Time you will have if you correctly bankroll yourself.
I played literally millions of hands of poker, constantly multi-tabled online because volume of hands helps smooth out your variance quicker, and for me, mentally this was a good thing. Some people cannot handle the mental side of gambling, chop and change their systems or betting stakes, even give up completely, despite the fact long term they would have made some good money. I am a firm believer in sticking with it and changing nothing, if you know that a proven edge is there.
To me the only downside to horse racing was the limited sample sizes of races compared with say that of millions of hands of poker, my concern was that normal variance would mean you could go on some crazy long downswings and taking a long time to recover, due to there being a fixed number of races to bet on per day.
Rewind back to Proform – the sheer beauty of this software is the fact you can create hundreds of systems yourself, analyse your betting edge and then begin betting the selections. This is what I found most useful, you're not just getting 1 or 2 tips a day, you can potentially get hundreds and to me this is what makes the software so useful at giving me a betting edge and would ultimately would prove very lucrative over the next 12 months.
1st October 2018, I'd had the software now for a couple of weeks, and it was time to start placing bets systematically, no emotion behind it, and just keep track of results. I'm not one for checking my bookies account balances every day, it can throw you off course mentally a bit if you have had a really bad day, so decided I would record my progress once per week on a Sunday evening all to level stakes betting as I used to with poker.
First month was amazing, I made 127 points in total and I thought back to all the paid tipster services that I had subscribed to in the past that would brag about making 20 points. I was seriously impressed with it. Of course, variance could be in play here, let's not get cocky, lets plod on.
By the end of the second month I was up 437 points. Thanks to the lads in the chat group I'd learnt a lot more about the software by this time and I was pretty confident at refining systems, to squeeze even more edge out of them without increasing the amount of bets I had to place each day too much.
By the end of month 6 I was up 2112 points, still sticking to my systems religiously through the downswings and very much enjoying the upswings.
I'm now at the end of my first year's journey with Proform, look at the graph and see for yourself what can be achieved with the correct bankroll and a bit of discipline. There are no gimmicks here, no get rich quick schemes, I have put in a lot of hours of analysis, picked the brains of other very helpful members and achieved something that would not be possible without the power of Proform behind it.
Looking forward to my next 12 months….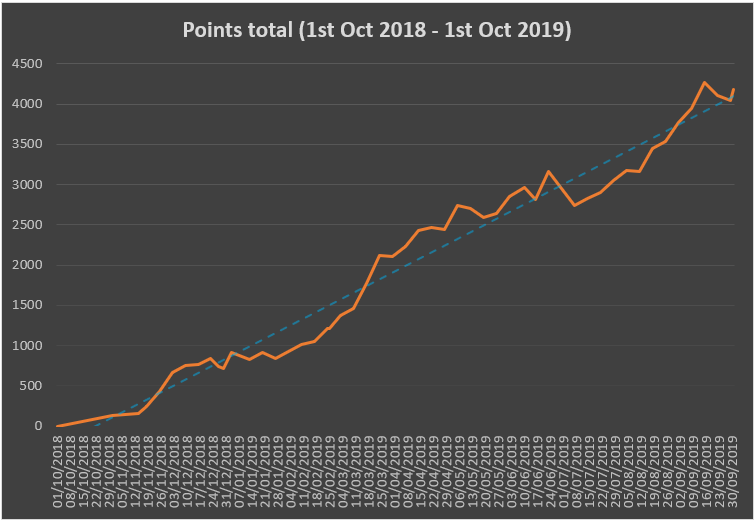 A Proform Member.