Why should I subscribe to Proform?
September 17th, 2020
The 7 Bookmaker Systems - SEPTEMBER 2020 Profits
Below are the profits for September 2020 to 1pt stakes. Detailed all time profits are further down this news article.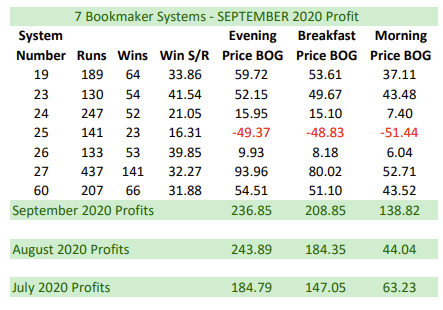 ---
The 9 Betfair SP Systems - SEPTEMBER 2020 Profits.

Can't get money on with the bookies? Then use our BSP systems.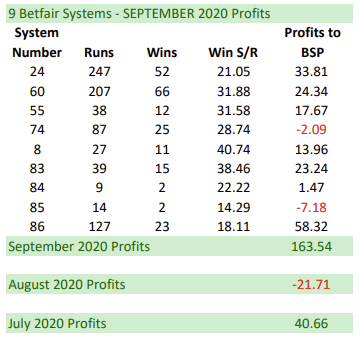 ---
PROFITS OUT OF THE BOX
The single biggest barrier to joining Proform that we hear hundreds of times a year is the price!
We'll show you in this blog post why this is not an issue in the slightest and what else Proform has to offer.
MAKING A PROFIT USING PROFORM TO EASILY COVER YOUR SUBSCRIPTIONS
We supply readymade systems right out of the box
When you subscribe to the Proform Platinum package and install our software you will receive seven ready made systems right out of the box.
The Seven Bookmaker Systems
First, let's clear up what we mean by bookmaker systems. You bet on the selections with a bookmaker who offers BOG (best odds guaranteed) either the night before racing, at breakfast time on the day of racing or around mid-morning on the day of racing.
Some bookmakers offer BOG the night before, some after midnight, some after 8am or 9am in a morning.
A lot of bookmakers are now allowing you to win a maximum amount on any single bet on the day of racing and are even allowing once restricted accounts access to this offer.
Onto the seven systems.
The combined profit at evening price with a bookmaker offering BOG is 10391pts.
At breakfast prices it is 8593pts and at mid-morning prices it is 5378pts.
Here is a table of the profits achieved at the three different times you could place the bets using a £10 stake and the profit after four years Proform subscription at full price.
| | | | |
| --- | --- | --- | --- |
| | Evening | Breakfast | Morning |
| £10 stake | £103910 | £85930 | £53780 |
| Profit after Subs | £98742 | £80762 | £48612 |
You could drop the stakes as low as £2 or even £1 per bet and still cover subscription costs on all seven systems, easily.
---
Betfair Systems
We also provide many more system in our telegram group including these 9 betfair systems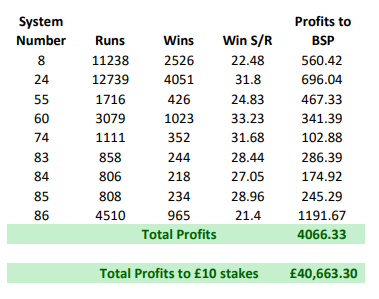 ---
TELEGRAM GROUP ACCESS
When you become a Proform Platinum member you will also be invited to our private Telegram group.
In this group you will have access to: -
Nearly 80 systems to plug into Proform.
Help and Support for all aspects of Proform.
Like minded individuals who are always willing to help.
Vibrant horse chat about systems and trading.
HORSE RACING FORM BOOK
Filter the form
Find patterns
Pace Ratings
Store and import notes
Store and import ratings
Breeding data
And much more, click here
SYSTEM BUILDER
Research 1000's of angles
Store systems
See daily qualifiers
Automate systems to place bets
Research breeding, dam, sire, damsire
Lists - Create lists to manage systems more effectively
PACE
Pace Ratings
Pace Percentages
Pace Maps
Easily predict a race pace
RACE GUIDES
Full horse form
Filter form
Compare form against benchmarks
Trading comparisons for B2l's, L2B's, dobbing and trobbing
Class indicators
Pace maps
Well Handicapped
Pos/Neg indicators
Sire data
BET, LAY & TRADE FINDER
Find bets in a few clicks
Powerful stats behind every button
Find lays in a few clicks
Mobile ready web app
Find trades in a few clicks
EXPORING DATA
Export data direct from the software to csv in a vareity of ways.
TRADING
You can quickly see B2L or Dobb strike rates for 50% lower in running
You can quickly see B2L or Dobb strike rates for 70% lower in running
You can see L2B strike rates for horses which when winning have gone 50% higher in running
You can see L2B strike rates for horses which when winning have risen 12 ticks or more in running
50% B2L or Dobb strike rates in our pattern matcher
PLUS two very powerful features :-
You can filter the racecard to today's conditions and all the in play data is refreshed to reflect the filter
You can look at past results and see the data pre-race and compare to the outcomes
TRAINING
SUMMARY
We think you can see from all the above that you get an immense amount data and tools when you subscribe to Proform.
If you do nothing else but choose one or all seven systems, we supply you and bet on them even to very small stakes you WILL MAKE MONEY.
It's a NO BRAINER!