Trends to follow for the National Hunt Season
October 18th, 2018
With the National Hunt season about to hit full flight in the coming weeks it is time to start investigating new interesting angles on Proform to mine out riches from the coming jumps season.
In this article we will look at some of the bigger yards and to my surprise at least those waters aren't all fished out just yet.
Alan King NHF (Data from 01/01/2010)
Invariably the runners from Barbury Castle are fancied in the market given the yard's high strike rate generally.
In National Hunt Flat Races the yard is 13% generally. Newcomers show an improved strike rate on that, especially the younger ones who are having their first start under rules.

Curiously horses bred in GB have better success on their debut for King. French horses have the reputation of being more forward from a younger age but from a limited sample here it doesn't ring true (general debut UK strike rate in NHF for French breds is 15%, so comes in around average).

The ones to avoid or take on are those who have raced under rules at least once, they come in at only 64% of expected winners actually visiting the winners' enclosure.

So the angle for the yard this Winter should be to go ahead on their UK debut and back them and don't be afraid to take them on in subsequent starts in bumpers. Favourites in this category for the yard only obliging about one in four times (35% the general strike rate for NHF favs in the same time). They are broken down below by SP Rank: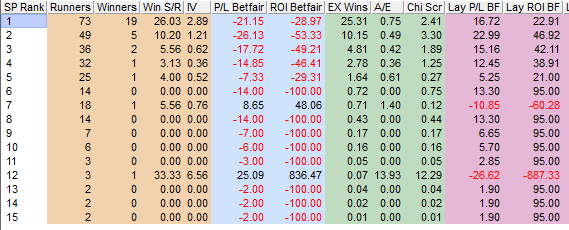 Backing System:
Filters:
Trainer: Alan King, Age: 4, Race: NHF, Year: 2010+, Career runs: 0, Country of Breeding: GB

Laying System:
Filters:
Trainer: Alan King, Race: NHF, Year: 2010+, Career runs: >0

Ben Pauling Fresh Horses in Early Season (data from 2014)
A trainer who has really hit the ground running in his first few seasons. Has had a handful of decent performers already in his short tenure of holding a licence. The yard expanded in late 2016 and that saw a jump in runners in 2017 and 2018 increase from earlier seasons, providing more ammo for the former Henderson assistant trainer to build upon his solid 16% rate since holding a licence.
With owners like the Rooneys, Simon Munir and Isaas Souede, useful Godolphin flat cast offs from Bloomfields, JP McManus and a whole host of syndicates there is no reason to believe the trajectory is anywhere but up.
Pauling has clearly got readying his runners at home off to a tee, landing a big gamble with A Hare Breath in a Cheltenham Handicap Hurdle in the autumn of 2015 the one that stands out most memorably. His runners over obstacles coming back after a break of more than 150 days are 25/112 (22%).
This angle is more pronounced in the early winter when racing against horses in a similar boat. Interestingly October is far below expected and as a result of that maybe we can second guess the target timing for his string given the phenomenally high strike rate of November and December.

Although it is a limited sample geldings are the ones with the strongest angle, suggesting he may bring fillies and mares along more slowly.

So taking the Ben Pauling geldings since his first full calendar year in 2014, with >150 DSLR in the months of November and December and it gives you a 33% strike rate as you can see below broken down by race type

Nicky Henderson First Time Hurdlers (data from 2010)
Yes I am as surprised as you to discover there is a profitable angle from the Henderson yard given the microscope on it and number of 'sources' that find their way into the betting market.
But the Seven Barrows novice hurdlers have a phenomenal strike rate when having their first UK career start over hurdles, even by their lofty standards of a general 25% win rate.
Below is a table of Henderson novice hurdle runners in total (Novice/Maiden/Juvenile in Race Classification):

For first time out over Hurdles only, a number of these runners may have run in Point-to-Points or French races before, but we are counting them as not having run if they have no GB or Irish start under rules. Interestingly geldings show a better record over fillies.

So geldings only, 0 career starts and 0 hurdle starts, shows a healthy strike rate since 2010

That is obviously not to discount other Henderson Novice hurdle runners. We break down by zero hurdle starts by race type last time and find:

Geldings who were Bumper runners last time showing a strong trend also.
At first I suspected the profitability may be exaggerated by a couple of large odds winners that skew the figures but when considering only those at single figure odds for first career run over hurdles, the results are even improved, with only 1/20 at double figure odds obliging.
And favourites are close to "shoe ins" on this evidence. Those at odds on (with a BSP of 2 or less) winning 13/16.

I'm not sure about you but I for one was somewhat astounded to see there is still such value and significant results on the table for Henderson runners, although given such a high strike rate it is perhaps not overly surprising.
by Conrad Clancy (A Proform Member)