Galway Festival Pointers
July 29th, 2018
Galway Festival Pointers
In the build up to this week's Galway festival there are several good articles on some things to look out for at the West of Ireland venue. Depending on who you ask one of the joys or pains of Galway is the blend of race types across the meeting; maidens, handicaps, NH and Flat but in this piece we will take a scalpel to a number of these in their own right and see what useful information ca be gleaned to inform bets on what are almost always hyper competitive fields.
National Hunt
Handicap Hurdles
There is always a feeling of certain trainers or owners targeting the meeting, but these horses tend to be on the go for the summer rather than being wrapped up and coming into Galway without a recent run. Figures since 2013 show it as a disadvantage with no win from 83 who have tried after being absent 90 days or more and less than 10% of those made the frame.
Course form is highly valued here but for the older horses coming back here past victory is no indication of future success, they can run well but find it difficult to get up the hill in front. Age 10+ are just 2 from 65 in the past 5 years, suggesting younger unexposed and potentially ahead of the handicapper is the formula you need to capture these 15+ runner affairs.
Tony Martin is probably high on the list of trainers to note at the venue already, he has been most dominant in Handicap Hurdles winning 8 of the 40 ran since 2013, also a good record in the flat equivalent of 12 wins and 14 places from 40 runners.
Amazingly and surely a stat that will have to fall soon is that Gordon Elliot is yet to win a festival handicap hurdle at the Ballybrit venue, 0/43 in the 5 years at the festival. He has success in other race types but considering the frequency with which he wins these types of races all over Ireland and the UK that is a surprising trend.
Handicap Chases
Older horses do not fare any better over the large obstacles. The lion's share of winners are unexposed, 12 of the 15 Handicap chase winners since 2013 had ran in 7 or fewer handicap chases previously, and 12 of the 15 were aged 6 or 7. The only handicap chase winner aged 10 or over was Fosters Cross who had a very good record at the track prior to the win.

Mixing hurdles and fences is not uncommon with summer campaigners but Galway does take a good round of jumping to win there and those who ran over hurdles last time only notched one win from the collective 56 who tried across the 15 contests in the sample five year period.
Henry De Bromhead seems to target Galway's chase contests, his record in chase races here is 13/51 (25%) with a sizable profit margin of +79 to a €/£1 stake. Considering the summer festival meetings only and 8/37 (22%, +56) is the stables record.
The figures bare out that it is a bigger aim now than before:

Flat
Maidens
There used to be only one show in town here at Galway, the Dermot Weld juggernaut was unstoppable for many years. But the last couple of seasons has seen the turning of the tide slightly (note: in 2017 stable had difficulties in early half of the year).
There are 9 maidens across the week at The Galway Festival which means 45 in our sample since 2013. Dermot Weld (16) and Aidan O Brien (8) have won over half of the maidens between them. For one of the greatest trainers of all time Jim Bolger has a horrid record here (0/58 at the venue since 2013, 23 of those defeated ran in maidens), suggesting that the ones he sends west are far from his A-squad.
94 horses made their racecourse debut at the Galway festival since 2013 and 5 were successful in opening their account at the first attempt. 2 trained by D K Weld and 2 by Aidan O Brien. Other trainers are 1/76.
For the Aidan O Brien stable of his winners who had experience, all 7 finished either second or third last time. Dermot Weld's runners typically had their previous outing at a Group 1 track, Leopardstown and the Curragh providing the majority of subsequent Galway winners.
All Races
The perception is that a wide draw is a serious disadvantage, let's see what the figures say on 10+ runner events by the 3 main distances 7f, 1m1/2f and 1m4f-1m5f since 2011
7f Draw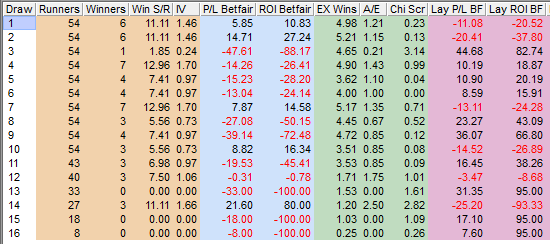 1m1/2f Draw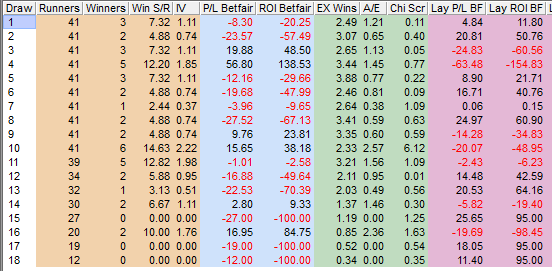 1m4f Draw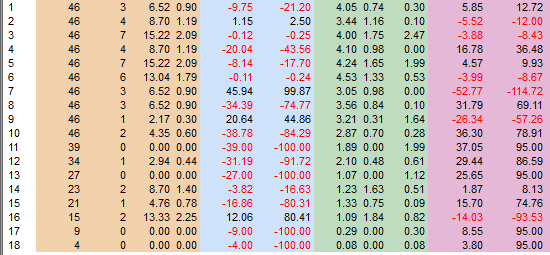 There appears to be nothing absolutely significant on the figures. As long as you are not widest of all you have some chance. The 1m1/2f contest starts in the straight so much depends on how you break. 7f contests start on a gradual downhill bend so should be most significant but while percentage strike rate wise lower is better at Galway's minimum trip there have been 12 winners from double figure draws over the last 8 years. There is a favour towards the lower draw but considering the low numbers of expected winners from higher it is hard to say how significant it is, and considering that it is often 4/1 or 5/1 the field so "expectation of winning" is not high in these contests anyway, it is hard to gain evidence you could have high confidence in.
I hope this small piece of information can aid in the quest to find winning bets (or avoid losing) one's for you this week.
by Conrad Clancy (Proform Member)