Proform Form Book v1.91 Released
January 23th, 2018

On Wednesday January 17th 2018 we released a new version of our Proform Form Book.
There are some exciting new features in the new version, not least, the ability to query and build systems around best odds guaranteed bookmaker prices at three different price points. Evening, breakfast and morning prices.
This exciting new feature is a game changer in our opinion.
• We have added bookmaker prices at three points in time before a race.
• 8.30pm night before (called EVENING Price).
• 7.30am in the morning (called BREAKFAST Price).
• 10.30am in the morning (called MORNING Price).
• They are not best price, although of course sometimes they will be.
You will be amazed at the returns you can get from most systems using BOG (best odds guaranteed bookmaker prices), just look at some of these profits in the last year, and this is just the tip of the iceberg!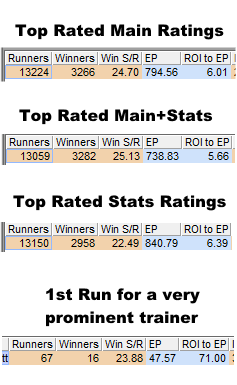 You can see above some amazing profits using our ratings and other angles and all our ratings are profitable, without any filtering!
Why not subscribe today and start winning!
v1.91 Release Notes
If you wish to read our full release notes for this version then click here to download the PDF.