The best Bet Finder App just got better!
January 13th, 2017
Bet Finder was designed to help users identify bets, lays and trades for the days racing in seconds and since its release last month, lots of our subscribers are enjoying the fact that finding profitable betting opportunities is as simple matter of as pressing a few buttons using our game changing app!
A happy customer on twitter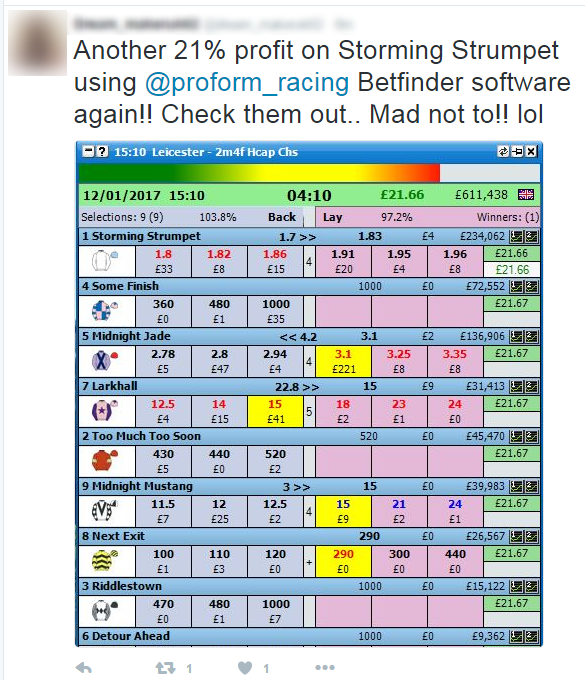 New 24-hour Access Subscription Service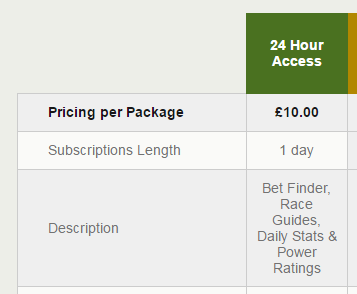 Now we do recognise that many of you are not involved in racing 24/7.
So, for those of you who dip in and out of horse racing during the week or prefer a weekend flutter, why not try our new 24 hour access service which includes:
Bet, Lay and Trade Finder
Proform Power Ratings
Visual Race Guides
Daily Stats Area Access
New Bet Finder Features
Not resting on our laurels, our top team of developers have recently released new Bet Finder features that make Bet Finder even more awesome!
:: The Proform Power odds are now on the right hand side of bets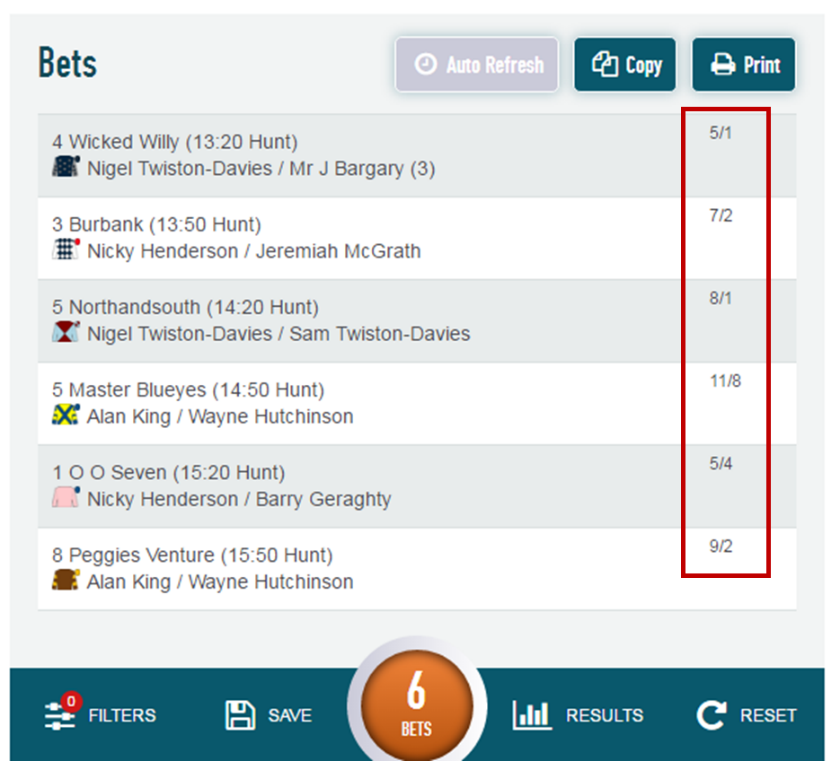 So now you can use the Proform tissue to compare against market prices to find value bets!
:: On results display the Power Odds and Low / High In Running % are both on the right hand side along with the finishing position and SP.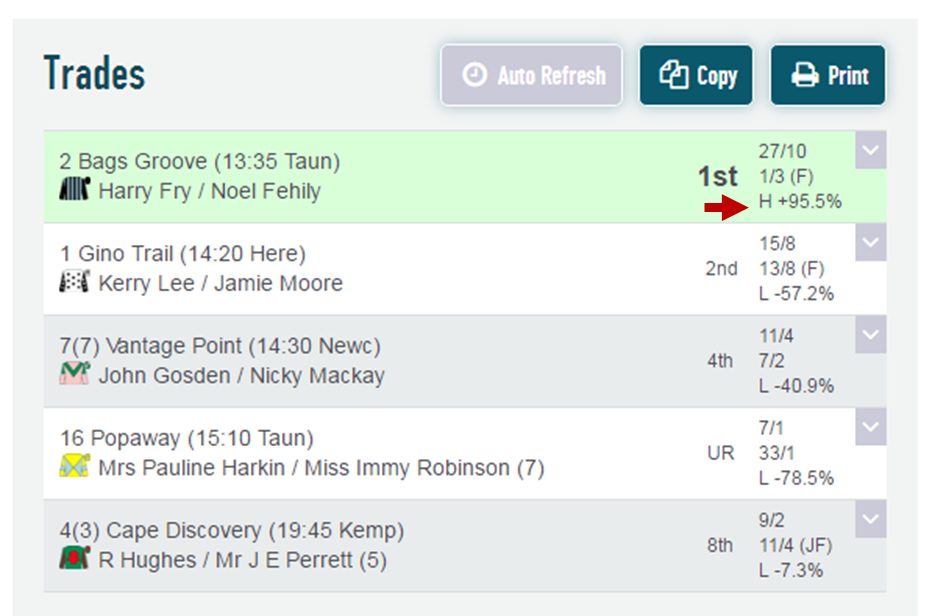 So, if you are into exchange betting you can set up your trade filters and use Bet Finder to go back in time to see how they performed using races in the past.
:: If you select an individual race you will see the race detail description under the race time and course.

:: Auto refresh button at top (defaults to off)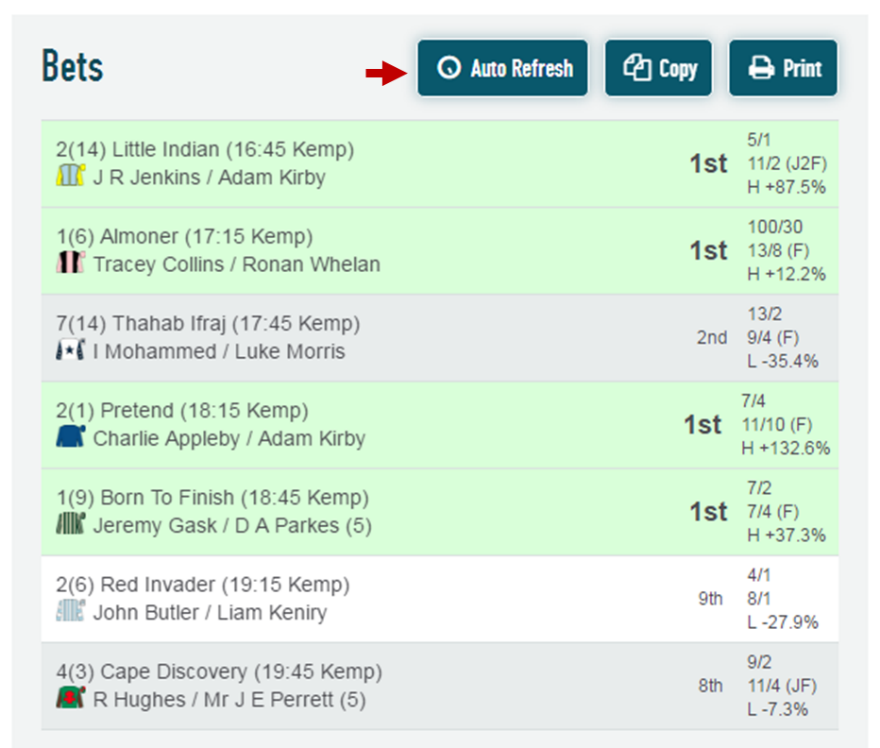 When clicked, Bet Finder will perform a refresh every minute. So using this feature you can leave your filter open and observe results refresh throughout the days racing.
:: We have added a calendar picker button at the top which allows you to go back to any date in the past quickly.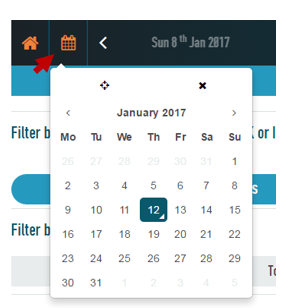 Also on the top left of the picker, when open, a little round icon

Which let's you jump back to today's date quickly and the chevrons allow you to move to the chosen day so you can go directly to a date in the past.
Subscribe Today!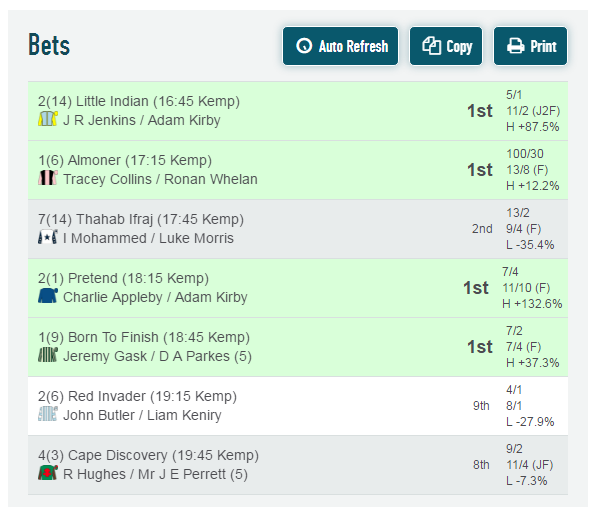 So, if you want to
Find your next Bet, Lay or Trade in seconds.
Access our Proform Power Ratings.
Use our Proform Race guides to find an angle in a race.
And get access to 100's of unique stats reports.
Just click on this link to sign up to our new 24-hour Power Rating, Bet Finder, Race Guide and Daily Stats subscription service today!