Bet, Lay, Trade Finder Launch
December 12th, 2016
The Game Changer is here!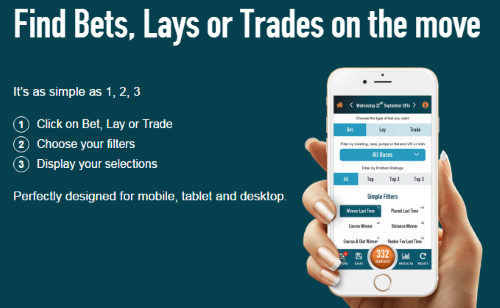 Monday December 12th sees the launch of our new Finder tool.
OVERVIEW
The Bet, Lay & Trade Finder web app tool allows you to apply more than 100 different statistically sound filters to the day's racing across UK and Ireland.
The App filters the day's race cards in real time. As multiple filters are applied the number of available bets, lays or trades that meet the criteria reduce as the search becomes more specific.
Each filter selection updates the remaining available filters so you only see relevant data at every stage.
FEATURES
Quick, easy and simple to use.
Simple and Advanced Filters.
Save your Filters.
Real time filter updates.
Live horse racing results updates.
Test your filters on races in the past.
Mobile responsive
Includes Proform Rating and Tissue Prices
and much much more....
FREE RACE of the DAY
Every day we have one free race that anyone with a free Proform account can view, click here for today's FREE race
This free race is also the same one we give away free on our Race Guides so you can use both tools to find your selections.
MORE INFORMATION
We have created various information and help pages for our Finder tool, which you can find links to below.