3 tools to make in-running trading easy.
May 17th, 2016
Whilst the original ways of betting or investing still remain, once the tapes go up or the stalls open that's not the end of how you can manage your bet.
Sometimes referred to as "in-play", in-running betting on horse racing has increased exponentially in recent years and one of the many advantages of this type of betting is that research pays!
Prices on the exchanges are constantly moving, so there are plenty of occasions to back at one price and lay the same selection at another which gives rise to the chance of locking in a profit or a free bet regardless of whether the selection wins or loses.
Basically, if you can identify the direction of travel in the odds before the race or in running, a whole host of profitable betting opportunities are open to you.
But as we mentioned before, you need to have the right tools at your disposal!
Here are three ways Proform can help you identify horses that are potential movers in the pre and in-play markets.
The Proform Formbook
In Running Model: Research in-running highs and lows
Use our Power Ratings to anticipate potential pre-race price movements
Race Guides
Highlight good or bad stall positions.
Visualise the individual pace profiles for each horse in the race.
Daily Stats
Identify in form or out of form, horses, trainers, jockeys and positive or negative situations.
List horses likely to trade lower in running.
The Proform Formbook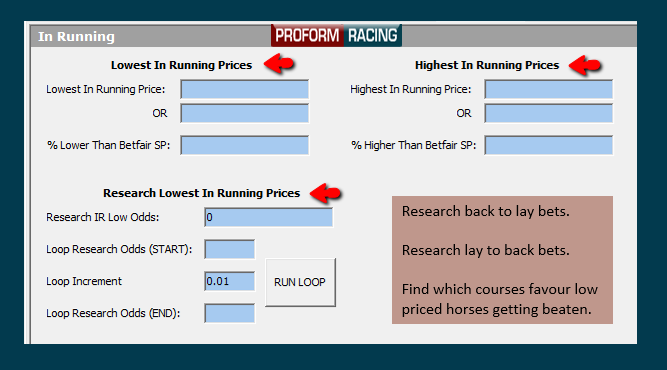 Our computerised form book covers UK and IRE horse racing stretching back to form from 1997.
One of the many features of the software is the in running module, which contains highs and lows achieved for each horse in each race and 20 in running highs and lows from the in play prices when the race was running.
Using this tool, you can research different in running scenarios for instant which horses are likely to trade lower than 50% or 70% lower in running or easily identify those situations where low priced horses getting beaten.

Not only does our computerised form book contain form ratings, class ratings, speed ratings, official ratings it also has our flagship Power Ratings and Odds Lines.
The top 3 rated in our Power Ratings win 60% of ALL races and they are often backed pre-race so can act as a great resource or guide to highlight potential steamers (or drifters) in the market
They can be found in our software and on our Race Guides.
Proform Race Guides

Using the power of Proform, we have developed the Proform Race Guide which breaks the mould to provide relevant race information for the casual and serious punter.
Within the Race Guides our draw and pace maps can help you to identify good and bad stalls. You know the ones, the so called "coffin boxes". However, there are many stalls across different distances at different courses that also have a poor expectation.
Obviously racing from a bad stall can have a massive influence on how a horse performs in a race which can affect pre-race prices.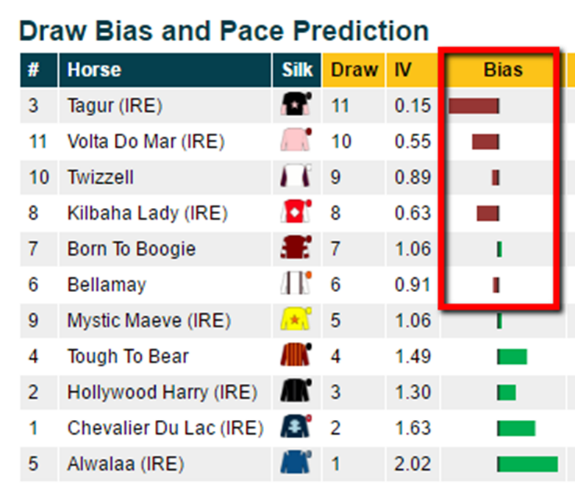 In the image above the impact value (IV) indicates how good, a value over 1 or how bad, a value under 1, a particular draw is and to make it easy to see, we have visualised this information for you.
Additionally, for those that subscribe to our software, you can also use our system builder research tool to analyse the draw much deeper, i.e. by going or number of runners

Any horse likely to get an easy lead will shorten pre-race and in play. On the flip side, a hold up horse will do the opposite.
Again, our race guide pace maps highlight the individual running styles of each horse in the race therefore well before the race stats you can get the early jump on punters to identify those horses likely to fluctuate in the market as the race unfolds.
Daily Stats Area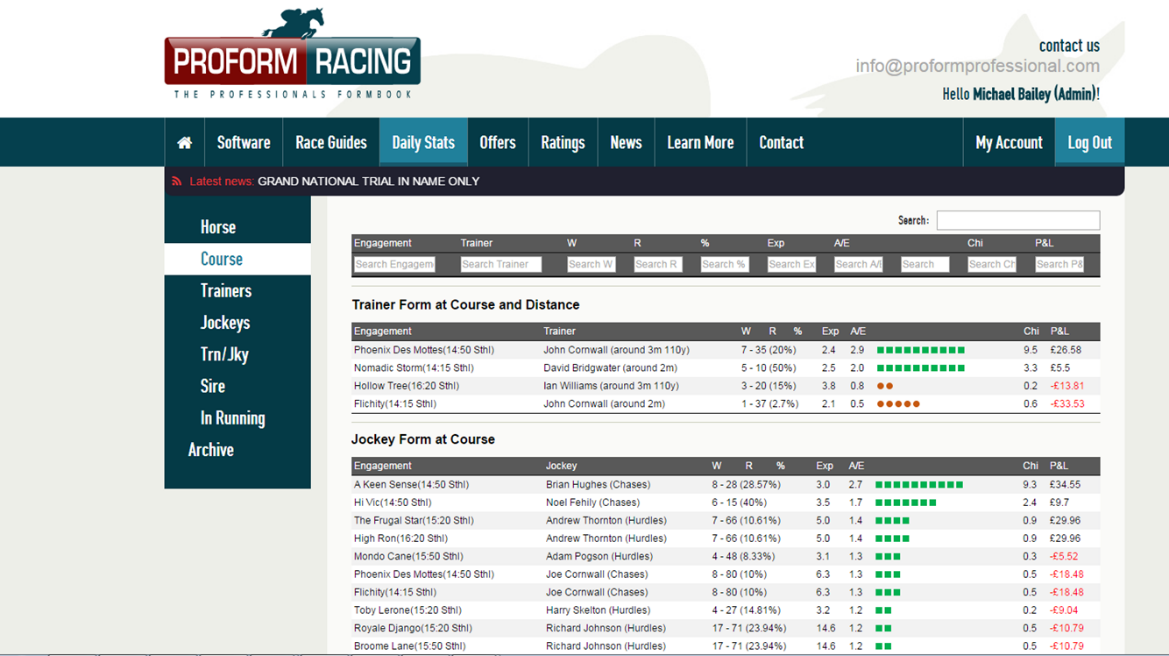 Punters love horseracing stats and as a consequence positive statistics can affect pre-race markets.
For example, before his retirement from riding, the combination of Aiden O'Brien and his son Joseph had a 28% strike rate. Punters aren't stupid and catch onto this kind of stat quickly and their opinion as a consequence is reflected in the movement of prices in the market.
On our web site we have the most comprehensive stats in the business covering horses, courses, trainers and jockeys and stats that identify positive and negative trends under specific conditions.
Using this information not only can you get ahead of the game to identify the key stats that will have an impact in the market .Every day we list horses likely to trade lower in running using our pre-built reports for the amount of time each horse has run 50% and 70% lower in running.