2000 Guineas: Sacré Air Force Bleu?
April 29th, 2016
The 2000 Guineas is one of the five turf classics in the United Kingdom and in the eyes of some punters heralds the flat racing season beginning in earnest.
This race presents us with a field of horses brimming with potential after cutting their teeth as 2yo's.
The hopes and expectations for this generation's thoroughbred elite will again be measured and dashed against the reality of the unrelenting mile at Newmarket
Some that go into the dip seem to never come out again, while a few define themselves as something apart from the ordinary by stamping their class over those left stumbling around in their wake and some will reveal their true potential later in the season.
Analysing the race beforehand is part of the thrill and in a previous blog post we looked at 5 facts for the classic opener at Newmarket.
To win this classic a horse needs a blend of speed and stamina and in this week blog post, we use the powers of our horse racing software and race guides to evaluate this year's 2000 Guineas contenders from the perspective of suitability to the race distance.
We also cast a slight shadow over pre-race favourite Air Force Blue.
Race Distance Last Time Out
Using the Proform System Builder, you can "Profile" a race using previous results to determine which of the many factors are relevant and also highlight pointers to long term trends.
Given that the majority of horses in the race are exposed having raced previously as 2yo's, it's a fair assumption that those with 8 furlongs on the CV have the right credentials for a race of this type.
Below are the results from the Proform system builder when analysing the record of 2000 Guineas winners from 1997 to 2015 categorised by last time out race distance.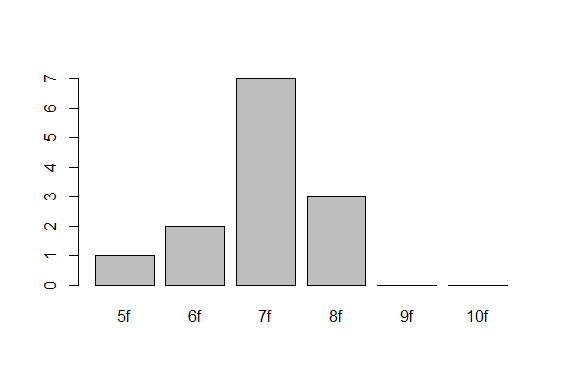 The graph shows that the majority of contestants ran over 7f furlongs prior to the race.
Given that 7f is an in-between distance, neither pure sprint nor a test of stamina, 7f is probably considered a good stepping stone for those with 2000 Guineas classic aspirations.
Horses that ran over distances of 7f (147) and 8f (98) last time out won 10 of 19 renewals however collectively, their record is 28% below the probability implied in their odds.
In other words, they don't perform as expected!
Below is a table for this year's contestants ordered by race distance last time out (LTO)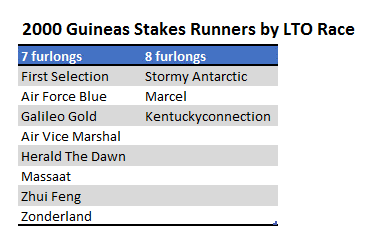 2000 Guineas Contenders by Breeding (Race Distance)
One of the unique features of the Proform race guide is that it uses a combination of shapes and colours to organise and represent data.
The key benefit is that you don't waste time trying to detect patterns in a bunch of numbers, we do the hard graft for you by querying and tabulating results from our software as show in table below.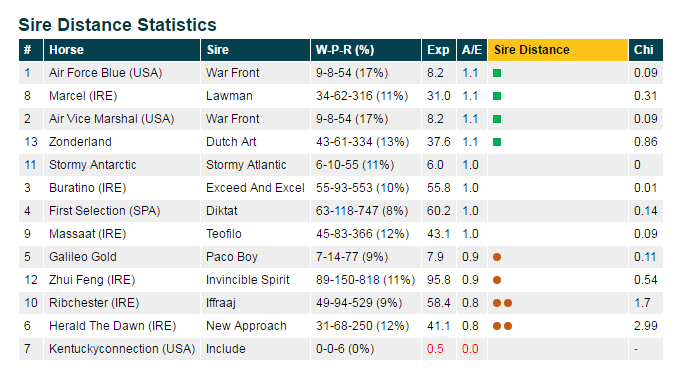 The Race Guide Sire Distance table provides a general summary of key stats for each horse and is ordered by descending order of actual verses expected (A/E).
In review, the current market leader for this year's 2000 Guineas, Air Force Blue heads the table.
The other major positive for Air Force Blue is that he is trained by Aidan O'Brien's and this colt out of the sire War Front has already managed to assert among his peers at Group 1 level.
On the negative side, he was raised in the USA and horses of this type (77) have only won two 2000 Guineas since 1997.
Summary
From our analysis above using Proform we can easily identify which horses have the "potential" (there are no certainties in racing) to go the distance in the 2000 Guineas and factor this knowledge into your pre-race analysis and thinking.
You could concluded given a couple of slight negatives identified above that Air Force Blue is opposable. As always, that's a personal decision based on your assessment of the race.
In our view, given the various race factors odds of 4/7 at time of writing (64% chance of winning) imply the need to be absolutely certain that there are no doubts Air Force Blue would give us a run for our money.
We'll find out at 15:45.