Kodi Bear vs. Celebration Mile Trends
August 29th, 2015
The Celebration Mile is a Group 2 flat horse race in Great Britain open to horses aged three years or older. It is run at Goodwood over a distance of 1 mileand scheduled to take place each year in late August. With market leader Kodi Bear a short price favourite for the race, in this week's blog we use the powers of Proform Professional to research key race trends and determine if he's got what it takes based on the past renewals of the Celebration Mile.
Youth
If we focus on outcomes, the scales are tilted toward younger horses with winners down the years aged three (9), four (1), five (5), six (2) and eight (1).
However statistically, of the 21 horses aged five who raced in the Celebration Mile, their win performance is 79% above normal expectation.
In this year's race Kodi Bear is aged three and Breton Rock is aged five. Both are 1st and 2nd in the market.
The Market View

As shown in the Image above, the top three in the betting combined have won 14 of the last 18 renewals.
Nevertheless where the favourite (SP Rank 1) wins 2.15 times more than expected (IV), the market is all over the jolly like a rash and based on the prices of each favourite, their performance is 23% below expectation (A/E 0.77 in purple).
In short based on past stats, horses that are 1st and 2nd in the market win the majority of races but the favourite is overbet by the crowd.
Pace in the Race
Historically, horses that like to run "Held Up" perform 23% below normal and as identified by our Race Guide pace map below, there is a good chance that the race will suit the running style of Kodi Bear

If he avoids a head to head with Fire Ship (who's best form is in Listed Grade and probably does not have the Class to mix it in a pace duel), Kodi Bear can run the race to suit or play catch me if you can with the rest of the field.
Finishing Position Last Time Out
As various studies have shown time and time again, how a horse performed in its previous race has a direct correlation to how a horse will perform in its next race.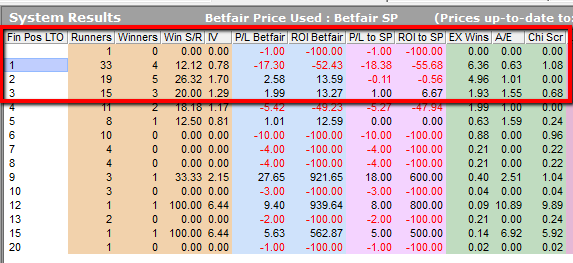 As shown in the table above which summarises the record of horses in the Celebration Mile based on the finishing positon of their previous race, those that won or were placed last time out should be the focus of attention.
In this year's renewal, Kodi Bear's recent win at Salisbury in a Group 3, Breton Rock's 3rd and Cable Bay's 4th in Group 2 events last time out are the notable pieces of form coming into the race.
Summary
There was a lot to like about the recent performance of KODI BEAR's recent win at Salisbury and based on the trends above there is also a lot to like his chances in this race therefore it's hard to look past KODI BEAR's chances on his upward progression to Group 1 company.
How you play the race, be it pass, trade or derive an exacta perm is really down to your own decisions but greatly aided by tools like Proform.
Using our unique data you are in control of determining factors that are important to you, weighting them differently depending on your own approach or identifying profitable trends or stats that the public ignore.
However, not all races throw up an obvious selection like KODI BEAR. There will be many races where the difference between contenders is wafer thin and to separate you will need a different opinion.
With are data at your fingertips to enhance you decision making, Proform can be the difference that makes that difference.