Sectional Timings: An exciting new feature in Proform
July 12th, 2015
As well as providing horse racing software, horseracing statistics and innovative race cards, Proform continually strives to develop new features for our customers.
After a period of development and testing, we are proud to announce the release of a program that will allow you to import the new Sectional Time Excel files created by Timeform into the Proform Software.
In this post we address a few questions about this exciting new feature.
What are Sectional Times?
A 'sectional time' is the time (in seconds) recorded for a horse to cover a furlong (or section) on the track. Using 'sectionals' you can better assess the pace at different stages of a race and the associated performances of each horse.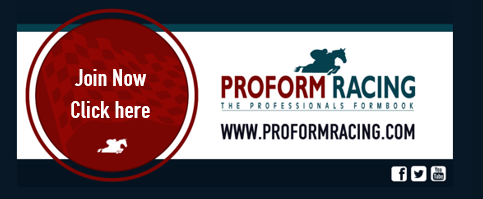 Why should I use them?
The fundamental reason for using sectional times is because a horse which uses its energy in a non-optimal way will compromise how fast it can get from A to B.
If the horse goes off too fast, it will pay by slowing more later on than it gained by running quickly early; if it goes too slow, it will speed up later but not to a degree which would make up all of the lost ground.
Therefore Sectional Times can give you a lot more insight into how a race was run and exactly how a horse performed.
Comparing the certain speed abilities of horses can prove very useful in studying form in a race and obviously point toward profitable bets.
Within the halls of Proform Towers we have been using Sectional Timings for a while to land quite a few bets on horses that have been overlooked by the general betting public.
Where can I get them?
Sectional Times haven't been widely available in the UK or Ireland, and it may be some time yet before they're available for all races, however Timeform have been at the forefront of addressing this gap in valuable betting information with their Sectional Times product.
How are Sectionals presented and used in Proform?
Once you have uploaded the data into Proform, you can review the sectionals for each horse in our formbook per the image below: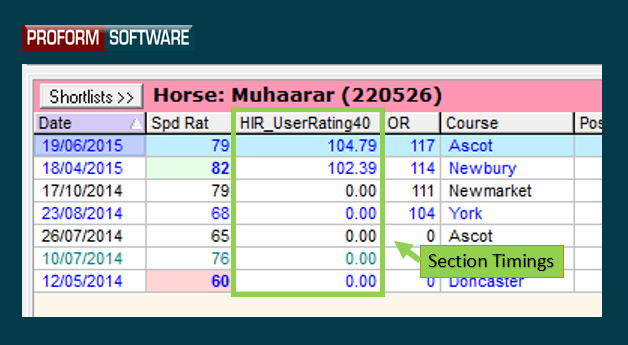 Sectional information can be expressed in a multitude of ways but our importer stores the horse's % of average speed against each race in our user ratings.
In a future software update using our System Builder you will be able to search the sectional data to find profitable systems and angles in future races.
As explained in Timeforms free guide to sectional timing, the finishing speed %s can place a horse's sectional time and speed into the context of that same horse's overall time and speed.
So in addition to traditional form study, combined with Proform Speed Rating Class Pars to find truly run races, you can use the sectional data to spot outstanding performances on the clock.
For example, in the image above Muhaarar's Speed Rating of 79 on the 19th June (The Commonwealth Cup at Royal Ascot) was above our Speed Par of 78 for a Group 1 race.
A final 2 furlong finishing speed of 104.79% was also above our par figures suggesting that Muhaarar's performance should be upgraded.
Next time out, Muhaarar won the Group1 Darly July Cup Sprint at Newmarket at odds of 2/1.
This just one many ways you can use Sectional Timings.
From creating your own unique Sectional Ratings to identifying horses for your notebook or in running betting, Sectional Timings are next innovation that will revolutionise the way you look at races and keep you one step ahead of the crowd.
Do you want to know more?
Click on this link to find out how you can download the new Sectional Timings Importer