Using Proform System Builder To Unveil Festival Winners - Brown Advisory and Merriebelle Stable Plate
March 11th, 2020
With seven of the past 10 winners collecting at 12/1 or bigger if you are successful in getting this race right it is clearly lucrative. But that is no easy task. I have had good trends (and the fortune) to aid in finding far more than the expected share of previous 'Plate' winners, challenge accepted to find it again.
This race often has a mix of those who had been keeping good company earlier in the season and those on the improve. Those higher in the ratings almost invariably find something improving or too well handicapped to fend off. The Storyteller was the highest rated winner at 147. 15% of total runners since 2010 rated higher than that but managed just 5 placed from 34 who tried.
Of all the distances, preference for this two and a half mile trip looks key, we see that 9 of the last 10 winners had ran over 2m4 or 2m5f last time, runaway winner and future multiple Grade 1 winner Road To Respect being the exception, he was runner up over three miles on his most recent run pre-festival.

With the likely prevailing ground conditions, proven stamina will be important so those who are stepping up in trip are likely best avoided again.
Incoming form from the last run is not particularly a strong guide to the winner as it is in other contests at Cheltenham. Runners have come from a win, place, down the field and incompletions before their Plate victory. But examining the most recent runs of the winners we see that 90% won within their last 3 starts, the exception again Road To Respect who had been contesting some of the high class novice events that season in Ireland. This trend has emerged in more recent years, in the 'noughties' a recent win did not appear as much an issue but looks a good guide to finding the victor here.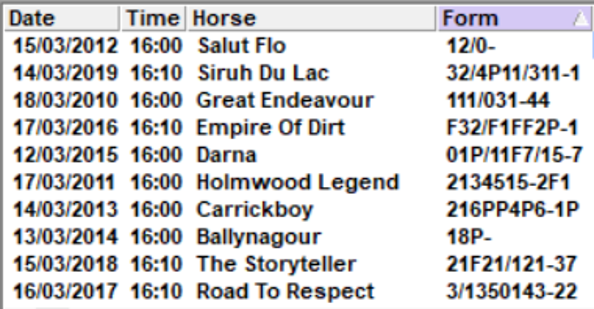 A mixture of those who had been around a couple of seasons and those who had few chase runs both have won. But it is worth noting: three of the last 10 were having their first handicap chase start; All had 3 or more starts over fences and no more than a dozen handicap chase starts.
Given how tight the race is usually those at the summit of the weights often find something better treated. 11st4lb that The Storyteller carried in 2018 was the only horse to win carrying 11 stone or more since 2008, and one of only 3 such winners this century so far, none of which were officially rated north of a figure of 147.
Those who are likely to be out the back coming in with no pace form do not fare too well.
Ran in at least 3 chases but less than 12 Handicap Chases
Negative: Old Grangewood, Imperial Presence, The Bay Birch
Won within last 3 starts
Negative: Snow Falcon, Death Duty, Robin Des Foret, Spiritofthegames, La Bague Au Roi, Kauto Riko, Ben Dundee, Imperial Presence, Louis' Vac Pouch, Livelovelaugh, Highway One O One, Blazer, Garde La Victoire, The Bay Birch
Ran over fences Last Time
Negative: Ben Dundee, Louis' Vac Pouch
9/10 Ran over 2m4f or 2m5f last time
Negative: Mister Whitaker, La Bague Au Roi, Kauto Riko, Ben Dundee, Louis' Vac Pouch, Livelovelaugh, Highway One O One
Official Rating <147
Negative: Snow Falcon, Mister Whitaker, *Death Duty, *Siruh Du Lac, Robin Des Foret, Simply The Bets, *Happy Diva, La Bague Au Roi, Clondaw Castle
*offset by claiming jockey's allowance to effectively run off lower
Avoid those with a pace rating of 0
Negative: Mister Whitaker, Spiritofthegames, Clondaw Castle, Kauto Riko, Ben Dundee, Oldgrangewood, Louis' Vac Pouch, Charmant, Blazer, Not Another Muddle
After all the eliminations you are left with what admittedly is a rather underwhelming list but given that many winners had something of a 'one hit wonder' in this contest trusting the analysis has proved worth your while.
Vision Des Flos – Often runs well in hotly contested graded events, often coming with a chance before emptying late, so the Cheltenham hill hardly a positive. Only 7yo but feels like he has been around for some time now. This will be only his 5th run over fences. Has had wind surgery at the start of the season, showed good form in his first start over hurdles at Aintree but just been respectable since, including when collecting at 1/4 in a match at Chepstow, and rated 147 is probably about his level. Comes up well on trends but would be a place only for me.
Deyrann De Carjac – Just looking at his profile before in-depth trends analysis, he struck me as an interesting one similar to winners of past renewals. Good form this season and some good runs at Cheltenham, was a bit behind like, the rest of the field, before Champ fell late on here on New Years Day. A concern is that Alan King has had 11 runners in this contest since 4 day festival began and no better than 5th place.
Springtown Lake – Won in good style on testing ground last time at Warwick. Respectable behind A Plus Tard in the Novice Handicap in 2019. Prone to the odd blunder and won't get away with that here and Richard Johnson is booked for La Bague Au Roi who he has ridden to 7 victories, so not necessarily a negative as Tom O'Brien won on Springtown Lake last time.
Royal Village – Yet to run on ground this soft and twice a beaten favourite on soft in the past, usually campaigned during the summer and hasn't been seen since October
Verdict – Deyrann De Carjac is the only one of the trend survivors to appeal, maybe an exception to the weight and rating rules should be made given a larger than normal proportion of the field is in that category on this occasion.
The 2 mares Happy Diva and La Bague Au Roi appeal to me as likely to run a great race and distance and ground should not be an issue for them. Has all the makings of a great contest.