Using Proform System Builder To Unveil Festival Winners - Ultima Handicap Chase
March 8th, 2020
The Cheltenham Festival where almost every punter worth their salt holds high aspirations of trying to profit on every single event run during the four-day bonanza if at all possible! Sentiment is often 'rampant' and it is hard not to be moved by some of the heroics performed in festivals past or indeed falling into the storylines possible following on from the preceding season's contests.
However, in this article we are going to do things far more coldly. The demographic of horse year on year in each contest is highly homogenous, they run in renewals of the same contests, are within the same official rating bands, and in a number of contests we can use trends and profiles of past winners to see what has proved a positive or a negative statistic for runners in their festival target.
So we will take a couple of the stronger trends contests to profile what the previous decade of winners have achieved previously and mask that to the 2020 runners, using data captured by the Proform database.
Good practice when using Proform System Builder for these Big Race Trends is to not leave filters on as you go as the omission of full detail may lead you into a belief that is untrue or conversely miss something that could be quiet a strong angle. Some may also be worth making an exception for, as we are not dealing with huge numbers and a runner may already 'survive' through a number of trend eliminations but are disqualified on something less influential.
Explaining this with an example: "horses wearing headgear are 0/42 in the last 10 runnings", but there may have been 38 of those 42 eliminated by previous distance or form filters and then it becomes 0/4 from the remaining and not looking near as strong as they tick the box on other criteria. While I do have a good appreciation of probability, I am not a statistician so just use judgement in these situations where necessary.
A note of caution in the currently testing ground and "championship" pace could lead to these trends being upturned as many were set predominately in Good to Soft going in years past.
Without further ado let's get cracking!
Tuesday – Ultima Handicap Chase
Usually has a line-up of 18 to 24 runners but as a race with strong trends that meant in previous seasons that can eliminate about 60% of the field before analysing each on their individual merits thereafter.
Recent form is always a good place to start. Columns have been rearranged for illustrative purposes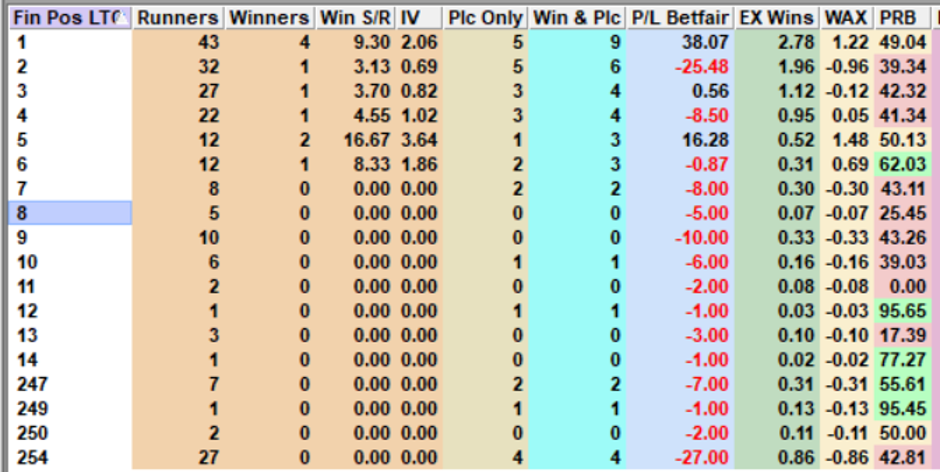 The table shows that a top 6 finish last time is a pretty strong indicator. Runners 7th or worst last time are 0/73 and just 11 places. Also beaten 27 lengths last time out is the worst deficit overcome, so round up those completed the round and were >=30 lengths off the winner last time are 0/40 with the best they fared in the last 10 running's was 3 third place.
This race usually goes to a more up and coming horse or possibly started the season as a novice. Un Temps Pour Tout (first win), Holywell and Coo Star Sivola all came from a novice event last time, Bensalem fell as a novice when in contention and had not seen a fence in public until collecting his due compensation here a year later. Infact all 10 winners had ran in less than 10 handicap chases, three quarters of race runners were in that bracket, the other quarter only managed a handful of places between them.
Interestingly nearly every winner since the 4 day festival began ran right handed last time out. Dun Doire and Coo Star Sivola the exceptions. Below is a breakdown of where the runners came from and how they fared (Gold =win, Orange = Place, Grey = Unplaced or Did not Complete)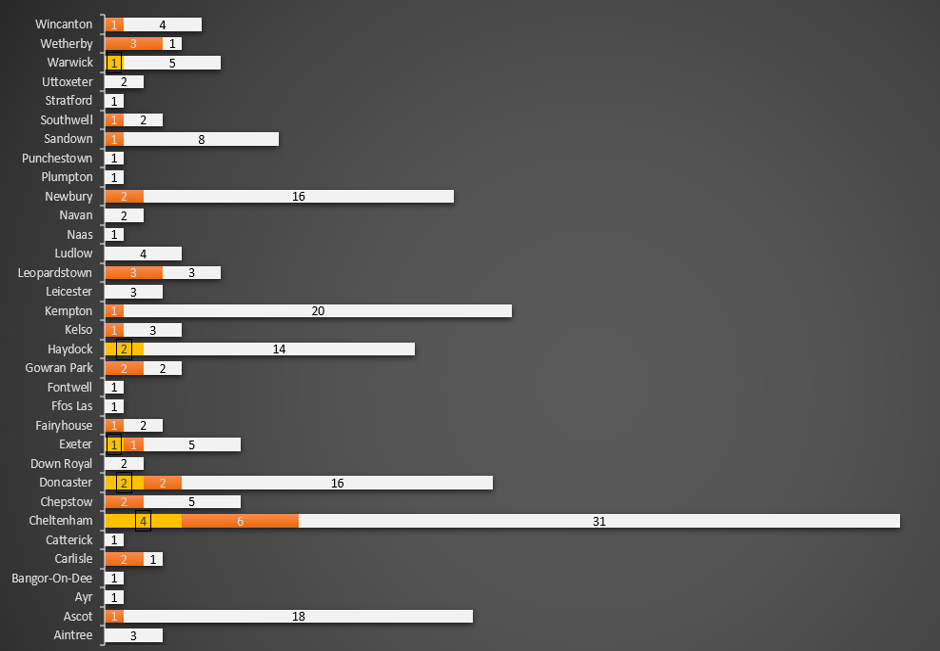 Ran Between 18 and 70 days ago (0/93 outside that range)
Negative for: Vindication, Brave Eagle, Mister Malarky, KIldisart, Discorama, Who Dares Wins, Atlanta Ablaze, Soupy Soups, No Comment
Ran in 16 or fewer chases, less than 10 Hcap Chases
Negative for: Cepage, Cobra De Mai, Vintage Clouds, Cogry, Soupy Soups, Townshend, Vivas
Finished in the first 6 last time beaten less than 30 lengths
Negative for: Ice Cool Champs, Vivas, No Comment, Quarenta, Burbank, Atlanta Ablaze, Discorama, Vintage Clouds, Brave Eagle
Left Handed Course Last time 9-20-140. Right Handed LTO 1-10-81
Negative for: Vindication, Mister Malarky, KIldisart, Discorama, Who Dares Wins, Townshend, Soupy Soups, Ice Cool Champs, Vivas.
After all the eliminations and choosing those with form over 3m and further, I am left with a shortlist of three horses.
The Conditional – a lot to like about his profile, a winner over this course and distance in October, won on both soft and heavy ground, 2nd in The Ladbroke Trophy off a mark of 137 and runs off 139 here. Lights came up on the dash late on at Warwick on his last run, towards the bottom of the weights today. Solid.
Big River – Although he has been around a while now he has ran just 20 times under rules including when 4th coming from the clouds in this contest last year. If it was run at Kelso he would be a warm order favourite, he has 6 wins there, but he does like the ground, 4 wins and a second from 6 runs on heavy leaves no worries about a test he may face. Ticks many boxes and just 1 pound higher in the ratings than this event last year, looks a good EW chance if he gets around unscathed.
Mulcahys Hill – One of 3 runners here who contested the 2019 National Hunt Chase 4m contest. He fell at the second last when extremely laboured but did run well until the bottom of the hill. The reason he may be worth chancing at the prices is a wind op he underwent before his defeat in a match race at Newcastle in January. A winner over the course and distance and Warren Greatrex had a festival chase winner with Missed Approach 12 months ago, a small bet at likely big odds given his solid trends profile