Sir Mark Prescott Handicaps
July 5th, 2018
Sir Mark Prescott Handicaps
Nearly the worst kept secret in racing, Sir Mark Prescott is fantastic at placing his horses. There is talk this year of him handing over to his assistant William Butler sometime in the next couple of seasons so as is often the case with jockeys going out on a winning ride, Sir Mark may be in for a good flurry of wins before curtain call.
Your first thoughts when you think of Sir Mark Prescott is probably something along the lines of: mops up mid-summer handicaps with well-placed engagements to take best advantage of their handicap marks. This is true they often begin life in handicap company on a lowly mark, are stepped up in distance and go on consistent upward curve through the course of the Summer and into autumn.
Let us take a deeper look at the trails his horses follow, despite the success being common knowledge are there any profitable angles in following the Newmarket veteran trainer?
Since 2010 (all generations of this article are run from Jan 1 2010-July 4 2018) his general record in handicaps with no filtering is a healthy 25%:

The perception may be to say that he does not have many 2yo winners and his older horses generally have been victims of their own success when winning multiple times but let's see what the records says

In a recent interview on Racing UKs Luck on Sunday he stated, "We will usually not hang on to one once we can go no further with him, but when they are here they get the best of everything". That is certainly backed up by the figures on track.
His record with two year olds is far better than I for one had anticipated, but the hypothesis that the less exposed three year olds make up the meat of it is backed up with 29% strike rate from over 800 runners this decade. And as you can see older horses had been expected by the market to win more often than they did (53 expected wins versus 45 actual wins).
So, for the purposes of this we will focus on the three-year-old runners.
The trainer is renowned for staying types, that is not to say he is lacking in wins in other divisions as we saw with Marsha in recent years, here are his runners by distance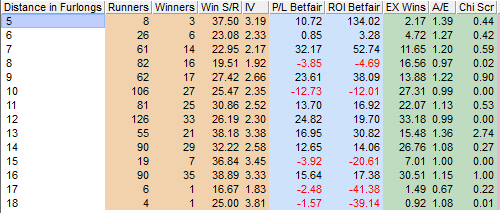 The typical modus operandi is that Sir Mark Prescott gives a horse who is bred for staying trips a few runs as a 2yo in sprint contests, that is in effect the only option generally available for juvenile runners, then they get a handicap mark based on these performances over inadequate trips and are stepped up in distance markedly in their three-year-old campaign.

Many tend to start off at a lower grade as a result and the record shows that it is the run of the mill handicaps in which the stable targets and excels in.

*We will eliminate Class 1 and 2 from further assessment. And focus on races 9 furlongs and further that are the mainstay of the horses housed at the yard.
In the high summer many trainers like to take advantage of the weight for age allowance for their improving three-year-olds and the Prescott yard is especially good at it. His 3yo runners in open company have a massive 35% strike rate, note that the 27% win rate in their own age group is not too shabby either!
The consensus would be that Sir Mark Prescott is the best in the business at getting winners out again quickly before the handicapper can revise the rating. Last time out winners for the yard follow up 46% of the time, as we know good performances as well as wins can lead to handicap revisions and second place finishers also have a huge strike rate when turned out quickly. Those running within 10 days of their last run win half of the time and if they were in the first two home in their last race and reappearing in 10 days, they win close to 60% of the time.
All runners DSLR ranges:

DSLR <=10 by finishing position LTO:

Presented above is the data and information but how do we go about narrowing it down to find a winning system.
From what we have learned so far, we have:- Three-year-old handicaps over 1m1f or further on both Turf and All Weather, Class 3 and lower.
Here is the general record by year, as we can see below it has been quiet steady over time, a 31% strike rate and +120 to BSP, not bad for an average SP of 4.74!

It is usually not a good way to find punting success, but it appears in this case that jumping on the bandwagon will certainly be a positive for your punting long term.

According to the evidence, extra confidence can be attributed to those who won or performed well and are reappearing with 10 days (51% win rate, +47.40 to BSP).
The winners over the last 8 years have come at tracks all over the country also. It is just one of those solid angles that seems to have stood the test of time and despite being common knowledge continues to be long term profitable.
That trend is likely to continue until the day the licence is handed over and with the yard about to ramp up to its busiest time of the season on the course I'm sure we can expect plenty of Prescott winners after a fantastic start to July with three winners on Tuesday (3rd).
by Conrad Clancy (Proform Member)