5 things you didn't know about the November Handicap
November 3rd, 2016
Age
Of the three age groups, which dominate the winners of the November Handicap, 3yo's have won six races, 4yo's have won three and 5yo's have won four races.
We need to go back to 2007 (Malt or Mash) to find the last 3yo winner. Last year's Litigant was the first winner aged 7+ since 1997.
Days Off
Horses that had no runs in the last month have won 9 of the last 19 renewals and thus far perform 36% above expectation.
Position Last Time Out
Horses that finished in the frame (1st, 2nd, 3rd) last time out have won 13 of the last 19 November handicaps (from a population of 194 horses).
This record has resulted in a 15.68% ROI at exchange prices (£30.42 profit to a £1 stake)
Courses for November Handicap Horses
Horses which ran at Newmarket (5), Doncaster (4), Ascot (3) and Newbury (2) prior to the race account for 14 of the last 19 winners since 1997.
This performance from a population of 252 horses yields a profit of £84.37 at exchange prices (33.48% ROI ) to a £1 stake.
The Going
The last three renewals of the Betfred November Handicap have been run on heavy, heavy and soft but with fair weather conditions predicted for the weekend, its bad news for connections that have been keeping their powder dry waiting for wintery ground conditions.
For those thinking about having a bet in the race, if you want to quickly separate the mud larks from the rest, take a look at our Race Guide Horse Going Grid.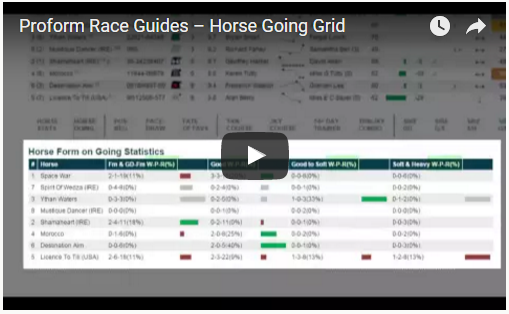 Using this grid, you will be able to review the performance of the horse under different going conditions and therefore identify patterns or preferences.
If ability on the going is one of the key cornerstones of race analysis, then our going grid is the "must have tool" to help you to rapidly cut through the ground form of each horse in the November Handicap.