The Northumberland Plate. But not as we know it
June 24th, 2016
It may be argued that the Irish Derby at the Curragh has more prestige however, the Northumberland Plate on todays' Newcastle racecard is one of the richest two-mile handicaps in the world!
Unlike previous renewals, this year's race presents a new challenge for punters with the change from turf to an All Weather (Tapeta) surface.
For those of you that take a trends based approach to race analysis, we're starting from a blank sheet of paper this year :(
Although, there are a couple of Proform Race Guide features you can use to provide an angle into the race :)
Horse Form on Going Statistics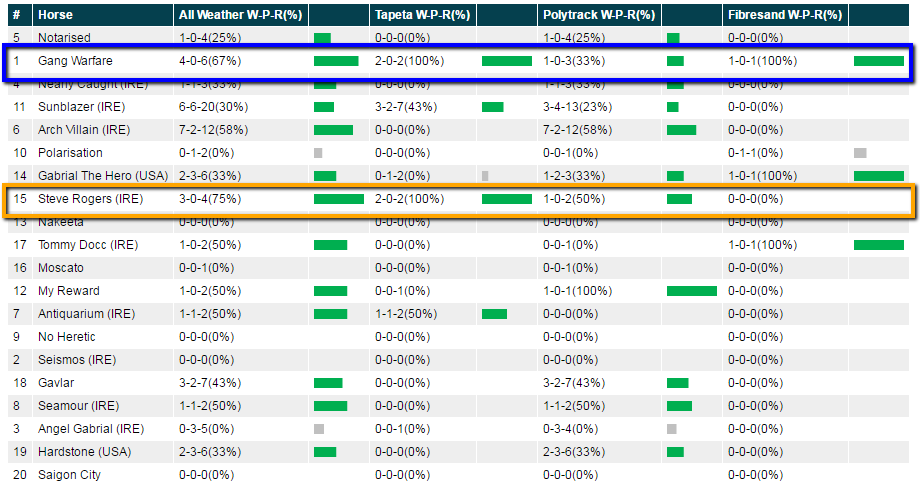 One of the many innovative features in the Proform Race guide is our Horse Going Grid which is shown in the image above.
Using this table you can review the record of a horse under different going conditions, specifically their performance across different All Weather surface types (Tapeta, Polytrack and Fibresand).
When assessing the race, obviously we should note horses with positive performances.
Sire Statistics On Tapeta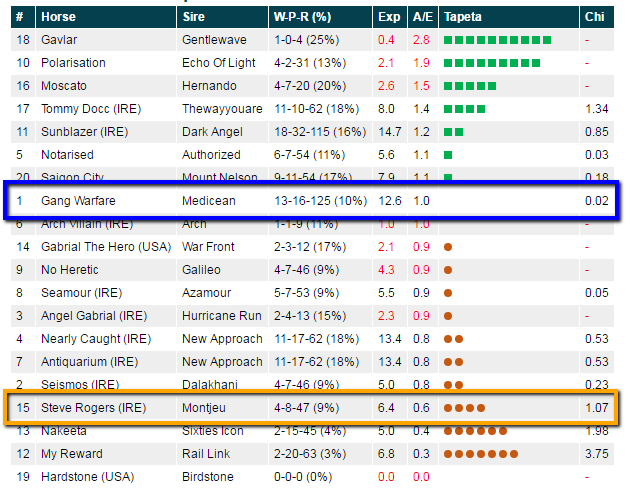 Unique to Proform, the Sire Statistics table provides a general summary of each Sire's performance on the All Weather Tapeta surface
The table is ordered by descending order of Actual verses Expected (A/E) in summary for non-red numbers, an A/E greater than 1 indicates a better an expected performance, below 1 suggests a worse than expected performance statistically .
Race Summary
At the time of writing, the bookies have anointed the Roger Varian trained Steve Rogers the pre-race market leader for the Northumberland Plate.
Our Race Guide indicates 3-4 record on All Weather surfaces (2-2 on Tapeta). In addition the progeny of his Sire Montijeu thus far have performed 60% below normal on Tapeta.
If we analyse Steve Rogers previous runs using our Proform software we note a steady progression in class: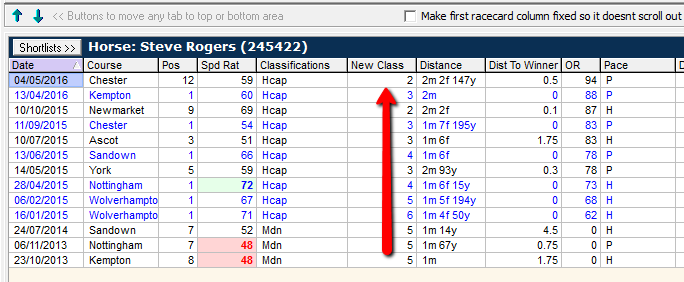 However, in today's race, Steve Rogers Official Rating of 94 is 6lbs above his highest winning handicap mark in races of this type.
In our opinion, Steve Rogers chances are obvious with legitimate excuses for his previous race (drawn high at Chester and caught wide during the critical stages of the race).
Although our main concern relates to his ability in the grade and the fact that this is a different Northumberland Plate and there is no baseline to benchmark agaist previous performances.
We are keeping an eye on GANG WARFARE and outsider Notarised but in essence this maybe a race to take a seat on the sidelines.