Key Trends: Royal Ascot: Day 2
June 14th, 2016
The PRINCE OF WALES'S STAKES is the feature event on day two of Royal Ascot and forms part of the middle-distance division of the QIPCO British Champions Series calendar.
This Group 1 event is open to horses aged four years or older and raced over a distance of 1 mile and 2 furlongs.
Let's look at the key trends for the race since 1997:
Courses for Prince of Wales Stakes Horses
Horses which ran at Ascot (4), Newmarket (3), Curragh (2) and Epsom (2) prior to the Prince of Wales Stakes account for 11 of the last 19 races since 1997.
Group 1 Horses
12 winners from the last 19 renewals ran in a Group 1 race prior to the Prince of Wales Stakes. Collectively (58 horses) the winner's performance is 27% above normal.
JERSEY STAKES
The Jersey Stakes is a Group 3 event for 3yo horses raced over the specialist distance of 7 furlongs
Key trends:
GB Flying the Flag
Horses bred in the United Kingdom (113 horses) account for 9 of the last 19 renewals, perform 31% above normal and are profitable to Betfair starting prices to a £1 stake; £32.08 profit, 28.39% ROI.
Market Leaders
Horses at the front of the market (first (5) and second (5) favourites), account for 10 wins since 1997 and as shown in the image below from our System Builder, perform 28% above normal (A/E 1.28) and are profitable thus far at Betfair staring prices.

Number of Runs
Horses that have raced 5+ times in the last month have won on 10 occasions (11% better than expected) and yield a profit of £30.24 (17.48% ROI) at Betfair starting prices.
Race Distance Last Time Out
Although this is a 7 furlong race, the trends suggest you should keep an eye out for horses that ran over 8 furlongs last time out who account for 8 winners from a population for 82 horses, a performance 32% above normal and are profitable to Betfair starting prices.
Contrast this against the 8 winners from population of horses that ran over 7 furlongs last time out (140), their performance is 5% below normal and are unprofitable.
QUEEN MARY STAKES
The Queen Mary Stakes is a Group 2 sprint for two-year-old fillies over a distance of 5 furlongs.
Here is our Proform Race Guide pace map for the race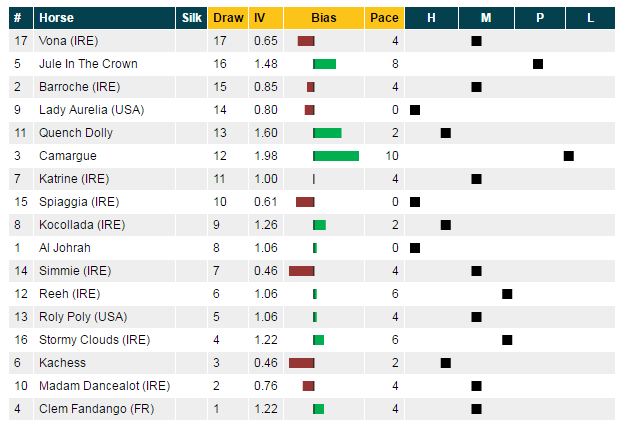 Over 5 furlongs at Ascot, horses that like to "Led" are 2.15 times more likely to win.
Throw into the mix that that horses that race "held up" are 0.69 times less likely to win, the pace bias in this race suggests that you should focus your attention on horses that like to race up with the pace.
ROYAL HUNT CUP
The Royal Hunt Cup is a handicap open to horses aged three years or older and raced over a distance of 1 mile.
As highlighted in the image below, based on the SP prices of previous winners, this is not a race for the faint hearted: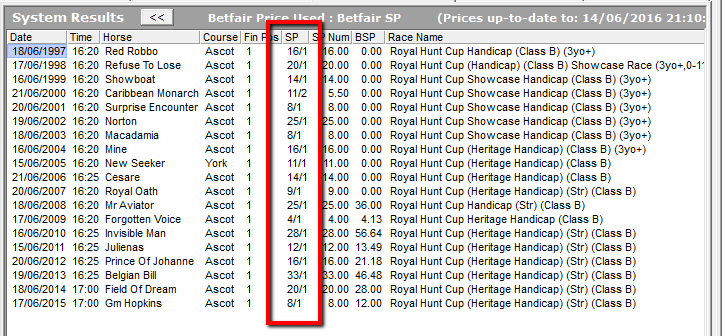 Using the Proform System builder, we identified the following key trend for the race:
The Favourite Last Time Out
Keep a close eye on horses that were the market leader in their previous race.
Horses that matched this criteria have won on 10 occasions from 19 renewals, perform 60% above expected and have thus far have produced a profit of £49.32 (45.67% ROI) to a £1 stake at Betfair starting prices.