Key Trends: Royal Ascot: Day 1
June 13th, 2016
The QUEEN ANNE STAKES is the feature event on the first day of Royal Ascot and forms part of the British Champions Series mile division, which concludes with the British Champions Day back at Ascot in October.
The Queen Anne Stakes has attracted many top-quality horses.
The 2012 winner Frankel confirmed his status as the world's greatest racehorse with a scintillating display to win by 11 lengths.
Let's look at the key trends for the race since 1997:
The Youngsters
Horses aged four (14) and five (5) combined have won all 19 renewals of the Queen Anne Stakes since 1997.
4yo's perform 20% better than expected from a population of 100 horses which dominate from all age groups.
Market Leaders
Horses at the front of the market have asserted their authority in this race down the years.
In the last 19 renewals, 14 winners were either the favourite, second or third favourite.
Collectively, backing horses that match this criteria produces a profit of £7.81 (13.24% ROI) to a £1 stake at Betfair starting prices.
Courses for Queen Anne Horses
Horses which ran at Newbury prior to the Queen Anne account for 9 of the last 19 races since 1997.
ST JAMES PALACE STAKES
The St. James's Palace Stakes is a Group 1 race open to three-year-old colts. The event is raced over a distance of 1 mile.
Key trends:
The Favourite
Since 1997, the market leader has won 12 renewals and overall was profitable if backed to the tune of £10.13 (50.66% ROI) to a £1 stake at Betfair starting prices.
Aiden O'Brien
Look down the list of recent winning trainers of the St James's Palace Stakes on the first day of Royal Ascot and one name stands out.
Aidan O'Brien runners have hogged the headlines with six triumphs since 2000 (seven in total since 1997) from a population of 38 runners.
COVENTRY STAKES
The Coventry Stakes is a Group 2 race open to two-year-old horses. The Coventry is raced over a distance of 6 furlongs.
Key Trends:
Markets Leaders
The favourite (9), second favourite (2) and third favourite (3) collectively have won the last 14 renewals.
The favourite in this race has strong credentials statistically earning a profit of £20.97 (95.32% ROI) to a £1 stake at Betfair starting prices.
Draw Bias and Pace Prediction
As this is a sprint race, below is our Race Guide Pace Map to aid your analysis of how the race could unfold.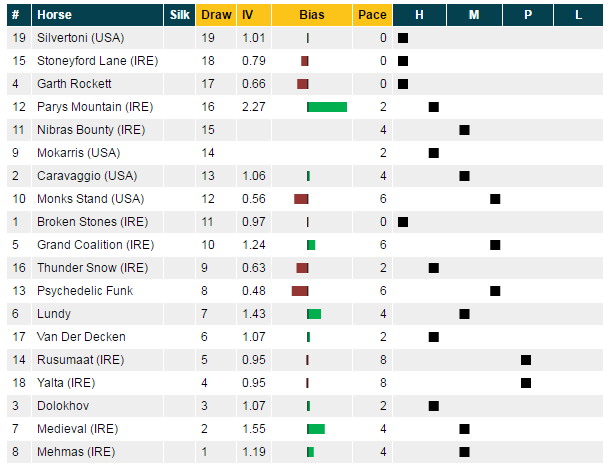 Down the years statistically, neither of the pace running styles (held up, prominent or led) dominate the race.
Aiden O'Brien
Again, another race where this Irish trainer excels during Royal Ascot with 7 winners in the race since 1997 and a profit of £68.78 (254.76% ROI) to a £1 stake at Betfair starting prices.
KING'S STAND STAKES
The King's Stand Stakes is a Group 1 race open to horses aged three years or older. This is a race for sprinters over a distance of 5 furlongs.
Key Trends
Age
Trends point to horses aged five (5) and six (6) who have won 11 races in total and perform 39% better than expected in what can be a competitive race.
Runs in the Last Month
The so called "battle hardened" horses (those that have run more the 5 times in the last 28 days) have won 10 renewals siince 1997. However, this group (265 horses) perform 18% below normal.
Value seekers should focus on horses that have not raced in the last month.
Collectively (41 runners) these horses have notched up 8 winners (12/1, 33/1, 25/1, 22/1, 11/4, 3/1, 7/1, 7/1) and produced an ROI of 303% at Betfair starting prices to a £1 stake (£124.27 profit).