Three Top Trends for the Darley July Cup
July 11th, 2015
The Darley July Cup is one of the most valuable and prestigious races in the world and the winner is often acknowledged to be amongst the best sprinters in Europe.
In this week's blog post we use our horse racing software to analyse every July Cup winner since 1997 to uncover three key facts for this Group 1 sprint event.
Royal Approval
Once you have determined your search criteria, the Proform system builder provides different options to display results from many 'last time out' perspectives.
Specifically for the Darley July Cup, we can analyse historical results by Course Last Time Out.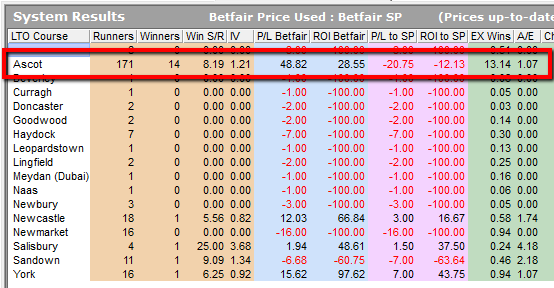 Of the 171 runners that ran at Ascot in their preceding star, 14 were successful.
If we break down each of the 14 winners into individual races prior to the July Cup, it's clear that we should scrutinise closely any horse that ran at the Royal meeting at Ascot.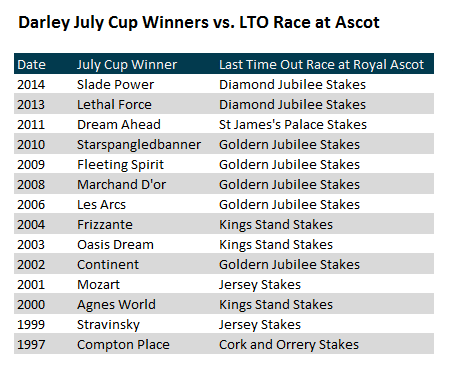 An intriguing prospect in this year's renewal is 3yo Muhaarar who won the inaugural Commonwealth Cup at the Royal Meeting. However it may be a fair while before this race can be considered a key race for the July Cup.
Market Opinion
As various studies have shown, an accurate assessment for the chances of each horse in a race can be derived from their market odds.
With this in mind, using our system builder we can slice the data by "SP rank" to determine the performance of each position in the betting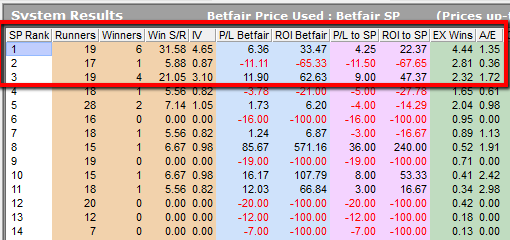 As shown in the table above, 11 winners were found in the first three in the betting, yielding a profit of £8.25 in total, 15% return on investment at Betfair Starting Prices (BSP).
However, if you are considering a bet on a horse out of the top spots in the betting, as shown in the table below (odds in red), there is a fair chance that your contrarian view will be suitably compensated if your selection lands the spoils.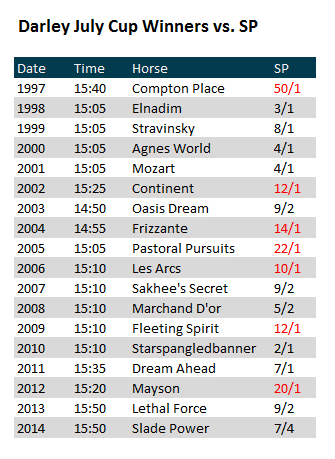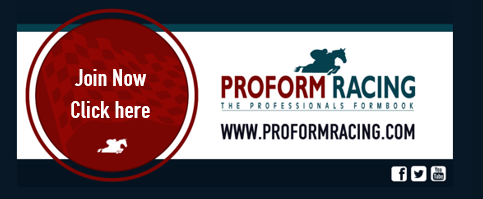 Follow my Lead
Pace analysis helps us to understand how the race will unfold when the race starts.
Within the database, based on the post-race in-running comments, we store pace abbreviations for each horse in the Proform database; they can be eithe
L for Led
P for Prominent or
H for Held Up.
Again using the unique features in our System Builder, we analyse the historical performance for each of the running styles in the Darley July Cup

From the 105 horses that raced held up, 5 were successful.
However, an Actual vs. Expected (A/E) figure of 0.88 indicates that as a collective population horses with this running style perform 12% below expected.
We need to go back to 2007 (Sakhee's Secret) to find the last horse that won the Darley July Cup racing off the pace.
Do you want to see more?
Every day on our web site we provide a FREE stats and Race Guide.
As well as providing detailed horse racing statistics with profit pointers, our race cards contain horse ratings for each contestant, unique pace information for every runner plus other time saving features to make pre-race analysis easy.
To download today's Proform Race Guide for the Darley July Cup, click on the link here