2 reasons why Golden Horn may not be Teflon in the Eclipse
July 4th, 2015
The Eclipse Stakes is a Group 1 Flat race for thoroughbreds of three years and older, run over a distance of 1 mile 2 furlongs at Sandown Park.
With 5 runners declared this year and recent Derby winner Golden Horn looking invincible based on market support, in this week's post we use Proform Professional to analyse previous renewals of the Coral Eclipse to see how the John Gosden trained Colt measures up against the stats.
Youngers vs Elders
The Eclipse is known as the race in which horses of four years and up first take on three-year-olds newcomers who've made their names in the Classic races thus far.
Using the various options within our horse racing software we can quickly identify data related to previous renewals of the Eclipse and break down results into various categories using the "Results Presentation" feature in the system builder as shown in the image below: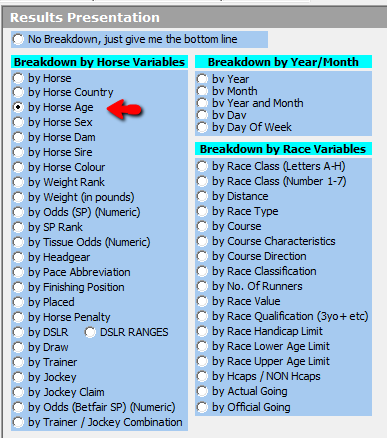 Previous winners of the Eclipse have been aged 3 (five), 4 (six) and 5 (six) and at face value no particular age group has a distinct advantage.
However using the A/E column (Actual vs. Expected) highlighted in the image above, a value of 0.83 indicates that as a population, 3yo's perform 17% below expectation (based on the market prices of the 43 runners).
4yo's perform slightly below expectation and 5yo's performed 37% above normal based on their A/E values.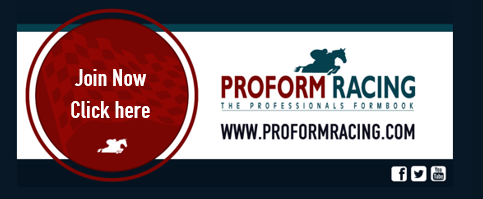 Ascot vs Epsom
If we break down previous Eclipse renewals by last time our race course: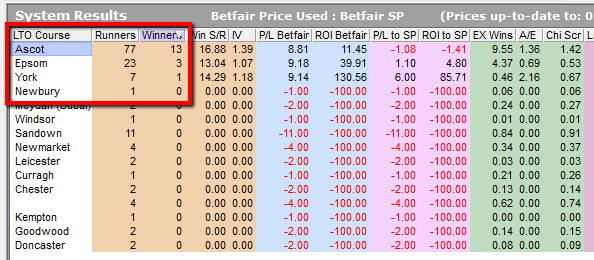 As highlighted, horses that ran at Ascot in their race prior to the Eclipse enjoy a 36% better than expected record. Horses than ran at Epsom perform 31% below normal.
If we dig into results a little more, the Prince of Wales's Stakes at the Royal Ascot Festival emerges as a key race for the Coral Eclipse which is a positive for the supporters of The Grey Gatsby.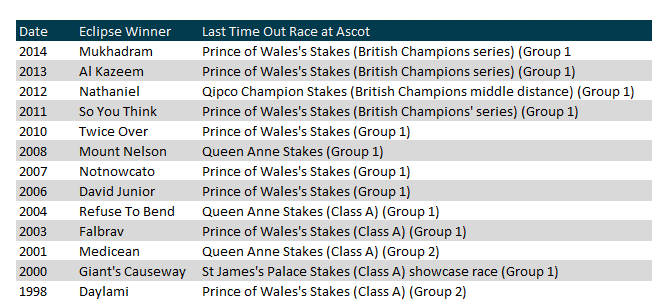 Is 4-11 value? Depends.
In all probability there is a high likelihood (if you side the market sentiment) that Golden Horn will be the next name engraved on the Eclipse honour roll.
However as shown in our analysis there are two statistical negatives (a) he's a 3yo and (b) a recent race at Epsom that count against him winning this year renewal.
At the time of writing Golden Horn is available at short odds of 4-11; once the race is over we'll have the benefit of hindsight to determine if this price is value :)
Do you want to see more?
Every day on our web site we provide a FREE stats and Race Guide.
As well as providing detailed horse racing statistics with profit pointers, our race cards contain horse ratings for each contestant, unique pace information for every runner plus other time saving features to make pre-race analysis easy.
To download today's Proform Race Guide for the Eclipse, click on the link here