Lingfield Winter Derby Pace Analysis
March 14th, 2015
Now cheltenham races are over for another year, attention now turns to Group 3 Winter Derby on the All Weather surface at Lingfield.
Once the pinnacle of the All Weather Season, this year the Winter Derby is now a fast track qualifier for the All Weather Championship finals at the same venue on Good Friday (3rd April).
Winter Derby Pace Profiles
Within the Proform database, based on the post-race in-running comments, pace abbreviations for each horse in the race is created, they can be either:
L for Led
P for Prominent
H for Held Up
Then to calculate a pace rating for an upcoming race we allocate points based on the pace abbreviation as follows:
4pts for Led
2pts for Prominent
and no pts for a Held Up running style
Below is the Proform Race Guide Pace Map for this year's Winter Derby.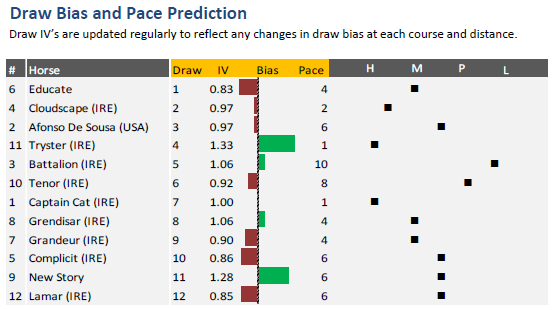 Formed using data from our horse racing software, the running styles for each horse in the race is plotted under columns H (held up), M (d mid field), P (prominent) and L (led).


Pace profiles of Winter Derby winners in the last 14 years
Using our software for horse racing, we identified that in the last 14 renewals of the Winter Derby, horses with a "held up" running style won three races however, given the population of 91 horses with this pace profile, this performance is 51% below what you would normally expect.
Leading into this year's Winter Derby, Cloud Scape, Tryster and Captain Cat all have running styles that suggest that they will be held up for pace as the race unfolds.
Do you want to see more?
Every day on our web site we provide a FREE race guide.
As well as providing unique pace information for every race, our race card contains horse racing statistics and horse ratings for each contestant plus other time saving features to make your pre-race analysis easier.
To download today's Proform Race Guide for the Winter Derby, click on the link here