Keep an eye on this Trainer in the Imperial Cup
March 7th, 2015
Win the race and go on to win one of the following week's Cheltenham races for a bonus, the Imperial Cup must be near the top of ultimate race doubles although recent results suggest landing the Imperial and a race at the festival is unlikely:

Proform Race Guide Trainer Statistics Table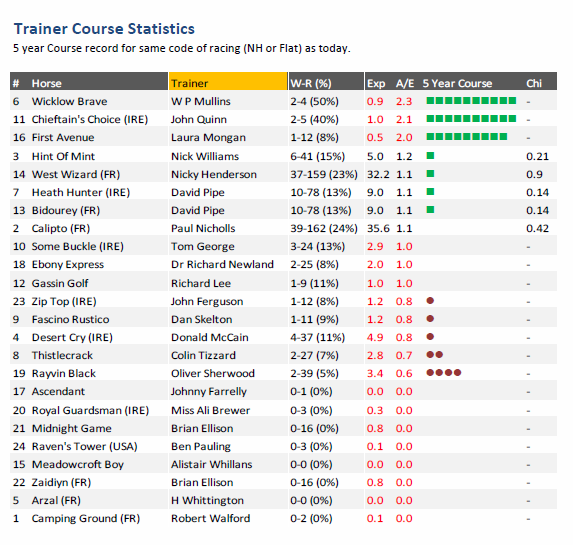 The table above shows the 5 year course record for each trainer in the race and unlike other horse racing cards, relevant information is summarised in grid format to make it easy for your eye to absorb the data.
The "Exp" column details the expected winners: statistically derived from the probability of the winners.
The "A/E": a ratio of (A)ctual winners verses (E)xpected winners, provides a good indication of whether a statistic is good or bad. A value above one, suggests a record which is better than expected.
Each symbol (Square or Circle) represents approx. 10% so in the case of Wicklow Brave, W P Mullins A/E record at Sandown is 2.3 or 230% above what you would normally expect based on the chance implied in the odds for each of his runners at Sandown.
Contrast this against Oliver Sherwood's record which is 40% below normal.
The Chi column can be used to quickly assess whether the associated stat was due to pure luck and is fully explained in his post.
Any number in red indicates that the sample size for the statistic is low (when the expected number of winners is below 5) and so makes it easy for you to focus your attention on the stats that matter.
Using our colour coded data, in an instant it's clear to see that there are only a handful of trainers in this race with a reasonable record at Sandown.
Obviously, the big stables are in the mix (Henderson and Nicholls) and lurking in the data is the trainer David Pipe.
Not only did he saddle last year's winner Baltimore Rock, but down the year's horse's trained by either Martin or David Pipe have figured more than once on the Imperial Cup honour roll.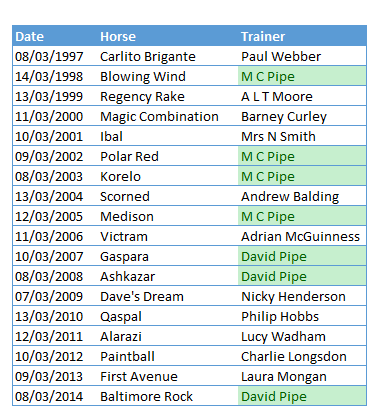 The Pipe team have gone on to win a race at Cheltenham and the bonus with three previous Imperial Cup winners, Olympian (1993 Coral Cup), Blowing Wind (1998 - County Hurdle) and Gaspara (2007 Fred Winter Hurdle).
There will many factors to consider in what looks a competitive race, but as you can see in the example above, whether its todays racecards or tomorrows, every day the Proform Race Guide has many features that will make your punting life easier.
Do you want to know?
The record of favourites and second favourites under similar race conditions?
Ratings for the race calculated by our racing software?
Why not use our free race guide for the Imperial Cup which you can download for free at the link below