How to make over £10,000 a year using Proform Ratings
February 28th, 2028
Profit to £20 bets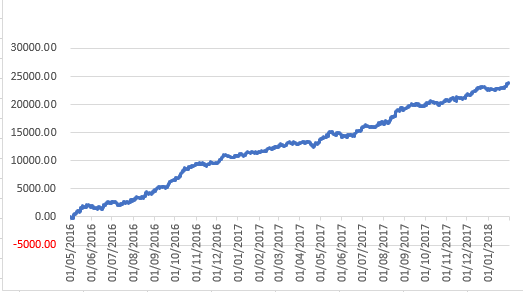 Above is a simple graph of how this system has fared in the last 20 months betting to a small £20 stake per bet.
---
Read on for the full details.
The System
It is a simple system combining two of our Proform Ratings. When a horse is top rated by BOTH, it is a bet.
NOTE: The system can only be found using the Proform software
The Profits


The two images above show you how many bets there were in the period 1st May 2016 to 1st February 2018.
You can see the full stats and full results spreadsheet on our ratings profits page
NOTE: The period starts on 1st May 2016 because this is the point at which we began collecting bookmaker early prices.
Also shown are the profits to
Exchange SP (minus 5% commission),
Bookmaker SP,
Bookmaker evening price (EP),
Bookmaker breakfast price (BP) and
Bookmaker morning price (MP).
What is clear here is that traditional Bookmaker Starting Price (SP) is a big loss and betting on exchanges at BSP also makes a loss.
The way to bet on these is using Best Odds Guaranteed (BOG) the night before, which is the EP column above.
NOTE: BOG means that when you take an early price or a fixed odds price about your selection for a particular race then if the SP (Starting Price) is greater, you are paid out at the biggest odds.
You can see that the profit to Evening Price (EP) is 1188pts to a 1pt stake, so
at £1 per bet you would have made £1160
at £5 per bet you would have made £5,800,
at £10 per bet you would have made £11,600 and
at £20 per bet you would have made £23,200.
NOTE: The graph at the top of this blog shows you the bank increased over the period to £20 bets.
NOTE: Backing at evening and breakfast prices will result in some Rule 4 deductions for non runners and could amount to about 30% less profit. In practice this is a lot less and backing at morning price (10.30am) even less as most non runners are already known.
Which Proform Ratings are used?
The system uses the Last Time Out Speed Rating and the Power Rating.
How do I get the system qualifiers?
You use the Proform software to setup the system and it will then show you the qualifiers daily.
The system contains two rules. A horse must be top rated on Last Time Out Speed Rating AND top rated on the Power Rating.
You set these rules up in the Proform System Builder on the tab Ratings (Speed & User), like the image below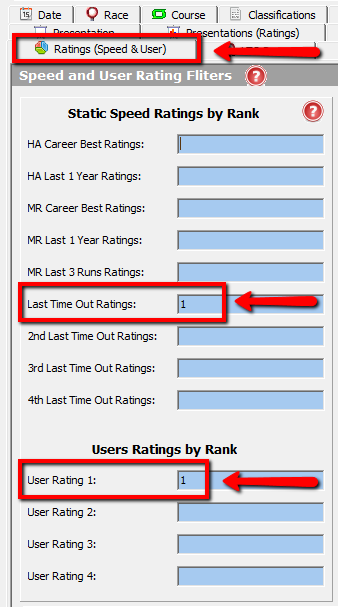 The Power Ratings are held in User Rating 1 and they are automatically imported each day. You just need to tick two boxes for them to import each day.

What about non-runners?
Non-runners can affect this system because we are using the rank of a rating so if a horse that is top rated on either of the two ratings used becomes a non-runner then it may trigger a new bet.
This is simple to manage though.
I place my bets the night before but at around 10am the next day I use the auto non-runner removal tool in Proform to remove all non-runners (click here for more info on this tool) and then I run the stored system for the bets again and see if any new bets have popped up. I might do this once or twice a day to check for any changes.
In our whatsapp group for Platinum members a Proform member has written a great tool to check for new bets after non runners. It is free to all in the whatsapp group.
Won't the bookmaker close my account?
Yes, eventually they will but there are lots of bookmakers who price up the night before and offer BOG.
How do I subscribe
You can subscribe via our join page which is on this link.
You will need a full Platinum subscription to gain access to the ratings and software to manage the bets.
This is £97.50 per month but if you just bet £2 per bet you will make much more than the annual subscription to Proform and every extra pound you bet on these horses will result at least £500 per year extra in your pocket.
At £20 per bet you would have made over £20,000 Nett after cost of subscriptions in the last 20 months!